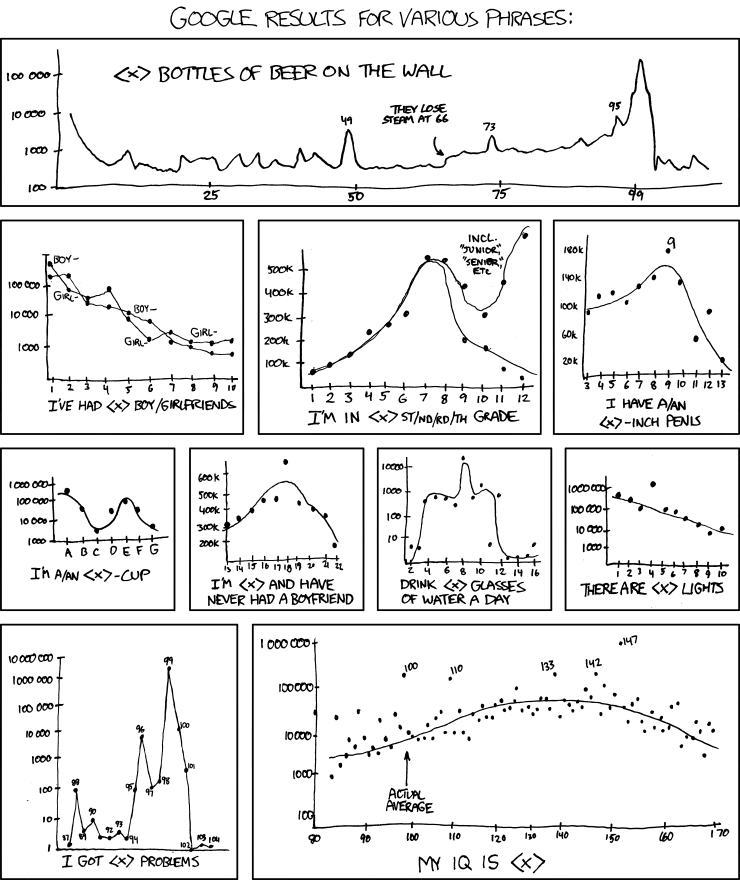 holy lord YES we get another graph comic! I have been waiting for these! And not just any graph comic, a TURBOCHARGED one! with 10 different graphs!
ughhghhghghhhg
i hate these types of "comics". For one thing, I am sick of them. There was the one where he talked about
kissing people
. There was that one about
death
. There was that made up one about
where people are searching for what
. Just a few weeks ago there was that
naked games one
.
The worst, though, was when we had a
comic
that proved that "2 girls 1 cup" was a more popular phrase than putting other numbers the the "x girls y cups" formula. HOLY SHIT! it's only like there was a popular internet meme about "2 girls 1 cup" and there WASN'T ONE for "6 girls 5 cups." Why is anyone surprised by this?
The corresponding graphs in today's comic are "[x bottles of beer on the wall," "there are [x]lights," "drink [x] glasses of water a day" and "I got [x] problems." All of these have a common phrase they are associated with where a single specific number is used for X. Of
course
"I got 99 problems" will be an outlier. That's cause no one has written a popular song called "I got 39 problems"! What's the point? Maybe for "there are [x] lights" the point is that the nerd reference to star trek has permeated the internet enough that 4
is
actually an outlier, but still, when your point is "star trek nerds spend a lot of time online" I can hardly care.
Anyway, that only takes us through 4 of the 10 graphs. Let's talk about the other 6. Tell me if you see a pattern:
-Number of girl- or boyfriends
-Age and lack of boyfriends (oddly, no corresponding one for girlfriends, here)
-penis length
-What middle or high school grade one is it
-bra size
-intelligence
Do you see what I mean? It's weirder because he doesn't actually draw attention to it in the comic - these are interspersed with the others. But the point is still: High schoolers, sexyparts, needing a boyfriend. Doesn't that make anyone else...a little creeped out?
------------------
What I really hate about these google comics is that they really, truly, have no point. You'll note that with these comics, Randall never actually tells you what you should
think
about any of this, never interprets the data he gives you. He just presents it. That's because, I think, he respects the scientific method enough to realize that the data he is showing you is
woefully
unscientific. Google results vary wildly depending on who is doing them (based on what links you've clicked on before, where you are, etc) and anyway, the number of times something is said online is indicative of very little beyond the number of times that this is said online. It tells you nothing about how people actually use that phrase in real life. Sometimes, if you are very careful, you can extrapolate more from the data, but Randall doesn't even try. He just presents the facts as being interesting on their own, which - sorry! - they are not.
----------
Actually, not only is the data not
interesting,
it's not even
accurate.
People were arguing, quite violently, about this in the comments, so I chose one and decided to check.
I decided to look at one of the more illogical ones, the one that searched for "I'm
and have never had a boyfriend." The results were: this comic is

crazy

wrong! The comic says that the results for 17, 18, and 19 (the outlier and the two data points next to it) are ~450,000, ~700,000, and ~400,000, respectively. My results were as follows:



if X = 17 : 8,790





if X = 18 : 9,940


if X = 19 : 5,910

How on earth did he get into the hundreds of thousands range? I have no idea. I know that some of you are thinking "well try it without quotes" but that a) is pointless, because then each age is likely to turn up in searches for other ages, and b) the results without searches make all the numbers jump up to the millions range (perhaps because of problem a). So I don't know what to conclude from this, besides the fact that Randall is just

wrong.



I'm not going to bother with the others because I am lazy. I am sure some are right, I am sure that some are wrong. He's got a lot of numbers there. But it makes me think that Randall just made up some of these, which really is just sad. You can't find lame google searches on your own, so you make up boring results? Quite a good job you've got there. Quite a good job.

you have so much to be proud of

=================

I totally forgot to link to this the other day, but a certain Suit made of Chainsaws seemed to be taking a direct shot at xkcd the other day. Given that it came the day after the "i know two things with the word ring in them" comic, and that it is basically an "I know two things with the word code in them" comic, I think it's pretty clearly about xkcd in particular. Also, xkcd shirts cost $48.