oh my, denizens of the webcomic critique blogosphere! How I have missed you all. So much has happened in my absence - some terrible comics, some crazy rants from Crazy Rob, the new
Wigu Comics
page got started (this is a big deal and I will write more about it later), and more importantly, there was some kind of
crazy insanity
which has turned the whole xkcd forum into some kind of stanford-prison-experiment-esque collection of childish nazis (i will write more about that later too). I CHOSE THE WORST WEEK TO LEAVE THIS BLOG.
Oh my, and of course, the first round of my own contest ended! I'll post in a few days with 3-5 finalists and explain (once I make up my mind) how we'll pick a winner. Is that all for now? I think so. I'm getting caught upon all the comments that were left while I was gone. I probably won't be able to respond to most or even any of them, but I do try to read them all. I also have to take a few more days to get caught up on e-mails. Alright - are we done here? I think so. Let's get today's comic.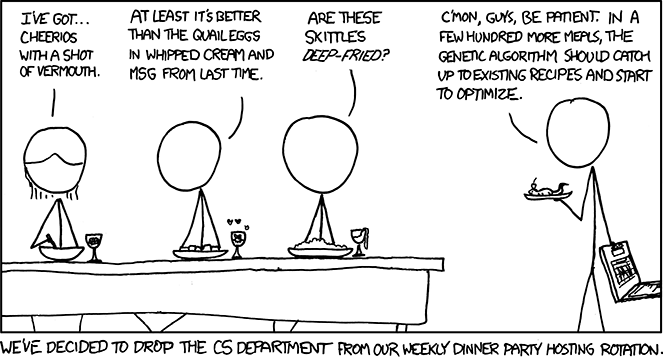 This comic reminds me of a joke. Here it is:
Q: How many Profession Members does it take to change a lightbulb?
A: X! 1 to change the bulb, and X-1 to act in a manner stereotypical of that profession.


(laughter all around).
I like that joke because it makes fun of actual, specific lightbulb jokes, most of which are pretty dumb (credit where its due: I forget where I heard that joke but it's pretty close to
these
comics
). The point that lightbulb jokes are playing off of is, "what if people of a certain group acted in its stereotypical way while doing an ordinary activity?" Because obviously everyone changes a lightbulb the same way. And what this meta-joke is saying is, "hey, everyone who tells regular lightbulb jokes: You're all being pretty stupid."
That is, by way of very long introduction, my message to the author of this comic:
you are basically being pretty stupid.
The joke is, what if computer scientists used computer science for everything? HA HA, it would lead to silly consequences.
--We had to stop inviting the medical school kids to our dinner parties, because they kept bringing us medicine instead of food!
--We had to stop asking the archaeology guys to come to dinner, because they tried to feed us on broken old shards of pottery which were gross and dirty and of historical value.
--We had to tell the graphic arts department not to come to our dinner parties because instead of food, they just brought crappy comics.
HA!
it is so implausible!
It all reallly just reminds of the other
dinosaur comic
that my search brought up. Randall is like T Rex, and I am like Utahraptor. Does that make my point make more sense? I hope so.
Lastly, two words about the art:
-Look under the table. See all those lines? what the hell are they? You think they are going to be like the legs of the table or of the people at the table, but then they completely aren't.
-Why are there hearts coming out of the cup in the middle?
That is all the writing i am going to do for now, my new mission is to figure out what the HELL was happening on the xkcd forums while I was away!
THANK YOU ALL FOR READING MY WEBSITE.