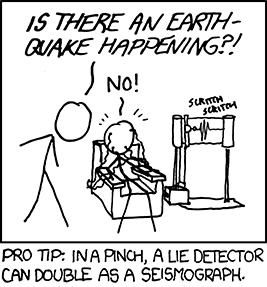 This comic took me a while to get, actually, because its convoluted logic is so childlike, so alien to the way we usually think about things, that I could not even tell what was happening.
The idea, I suppose, is that if you do not have a seismograph to measure an earthquake, and you want to know if one is happening, you hook someone up to a polygraph and ask them if there is one. Then, if there is an earthquake and they answer "no," the polygraph will make some
lines
that look like seismograph
lines
.
Stop! stop right there, with your mind! Don't think harder! Don't ask any more questions! cage off that part of your brain that is thinking about this, and you might enjoy this comic!
For those of you who insist on
thinking
, you shitheads, your thought pattern may be something like this:
--But what if the guy says yes? Then there is nothing special on the polygraph. Is the idea that he just says "YES THERE IS AN EARTHQUAKE" and that is your polygraph, because hey, he told you there was an earthquake?
--Isn't the point of a seismograph to tell you how intense an earthquake was, not just whether one was happening or not?
--What if there isn't an earthquake happening? Then, if he says there is one, you still get a "there is an earthquake" reading on your polyseismograph.
--Most obviously and most importantly,
how does the man in the chair know if there is an earthquake.
That is, how does the guy in the chair know but not the guy standing? Of course if the earth were, you know, visibly quaking, that could do it, but then Standing Dude wouldn't have to ask.
Are you going to tell me not to think too hard about these things? Are you going to tell me that I need to relax and just take the comic as is, without thinking too hard? Well in that case I am going to tell you to
shut the fuck up
because these questions are so basic, so obvious to any mildly intelligent reader, and so core to understanding the point of the comic, that you
have
to ask them. You have to question it when the comic requires you to suspend your belief so much that one of the characters must be a magic psychic earthquake sensing mystic but otherwise, in every other detail, life would be exactly the same. If that were the case, this comic would be funny. Alas, we
do not have
earthquake sensing mystics on this planet! OH WELL.
Put another way, this comic seems to rely on the childlike notion that if you had a polygraph, you could figure out every truth in the world, by stating it or its opposite and seeing how the polygraph reacted. I am sure my five year old self, upon learning of a magical machine known as a lie detector, imagined hooking someone up to it, asking if aliens or dinosaurs or something existed, and, if the person said "yes" and the machine did not detect a lie, being
thrilled
that I had just proved the existence of aliens, and moreover, that I may get to meet them (would I ever get to meet them? only one way to find out - ask the lie detector!).
(this comic also relies on the childlike notion that polygraphs actually work as a way to establish if someone is lying or not, but let's not even take up that question, we have enough to deal with as is).
anyway, i guess what i'm trying to say is that if you liked this comic it means you are stupid.
==================
update:
a lot of commenters are saying that I've missed the point of this comic, which is to show how ridiculous the whole idea is. People! Think about what you are saying! You are saying that the point of this comic is to write out something terrifically stupid and then laugh about how stupid it is. That's like me making a typo and then saying it was a joke, because obviously I would not be so stupid as that! I was
acting
stupid, for a joke.