Note: any time Person #1 compliments you he is wrong. -Ed.
Hello smart, intelligent and attractive people of the xkcdsucks blog and Carl (OH SNAP!). Person #1 here once again to guest post about that one webcomic that causes wikipedia editors so much work.
I love including other people in my blog posts, as you may have noticed, and today I have a story too. A friend of mine, who is a legitimate friend of xkcd told me about how incredibly unentertaining today's xkcd is. Once again, this gave me an incentive to check it out. (See? People keep making me read it)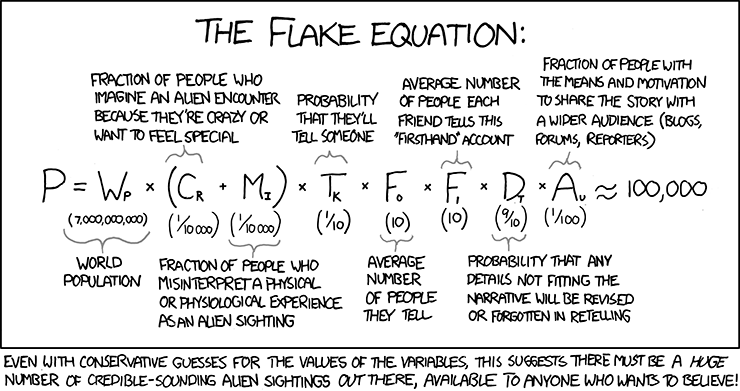 Well, my first thought was "Again? Didn't we already do this?". Well,
we did
. Back then, the comic had an actual joke, though. What is this supposed to tell us? Ha ha, I changed the equation to see how many different alien encounter stories are out there. Ha. Hilarious. The bottom text (which you read last) describes what's going on. The problem here is, there IS a lot of alien encounter stories. This is not fascinating or unexpected or anything. It's like telling a story about what the best route to the supermarket is, and then expecting people to laugh at it. it's a lot of buildup for nothing surprising.
This is something which could be seen as satire, maybe showing how anyone can make up bullshit equations to prove a point, which doesn't make them true. However, this does not make them funny. This is something I could accept in a newspaper or as part of a blog post, but on it's own it's just lame. He could have done pretty much anything to make it funnier.
Anything?
This strikes me as one of those comics where Randall was not really looking to be funny, but rather to make up some interesting bullshit, which I do like to do with my friends too. But it doesn't make good material for a webcomic.
Alt text:
"Statistics suggest that there should be tons of alien encounter stories, and in pracitce [sic] there are tons of alien encounter stories. This is known as Fermi's Lack-of-a-Paradox."
Well, that's lame. I don't even know what else to say about that. It's just so incredibly mediocre. Ha ha, my crazy result is actually not crazy and totally normal and I am pointing this out. Why didn't he just write "Hey guys this comic totally isn't funny, so fuck you"
Forumites, do your thing:
Why is it called the Flake Equation?


Perhaps it's a flaky equation?
There's a ton of stuff on Google about alien abductions in Snow Flake, Arizona... Maybe that has something to do with it? I don't know.
I guess I am not the only non-native speaker. Flake is a crazy person.
blah blah blah - forumites are boring. I have a more important issue to tackle with the forums anyway:
Is echochamber.me turning into a socialist dictatorship?
Yes. Yes it is
I have been informed, through the comments on this blog (where everyone is free to complain about how I totally suck and Carl is better, or how
Carl totally sucks and I am better
) that the xkcd forums are having this mod frenzy bullshit which is basically a series of
hilarious
wordfilters. From observing and what I'm told, they look something like this:

God -> Jehova
Mod -> God
edit: -> OOPS
also: -> ALSO YOU GUYS:

The last two may be inaccurate, but that's besides the point anyways. The point is that they are replacing a bunch of shit
potentially
offending a bunch of religious people. Their justification? The mods wants to have fun for a week. They have a pretty boring definition of fun, but that's besides the point. This whole bullshit I can accept, but here's the thing:
Anyone who dares to complain about it will be banned without any warning
. That's right. They are actively looking to offend a bunch of people and then killing off those who complain. I guess it's sort of a witch hunt for religious people who aren't willing to be some internet forum moderator's bitch and take whatever they say as granted and justified.
I am going to quote a post which was quoted in the comments of the previous post:
"OK, that's three. Complainers, whingers and absurdly indignant killjoy assclowns are now subject to bannination for the duration of Mod Madness without further warning at my discretion. My whim, actually. Especially if the complaint appears in this thread where I am really really likely to see it. I don't care about annoying people with word filters this week. I understand and accept that some of you find it annoying. And I don't care. Shut up and let the mod staff have some fun for a few days."
Dear Randall, your forum moderators are profoundly unstable douchebags.