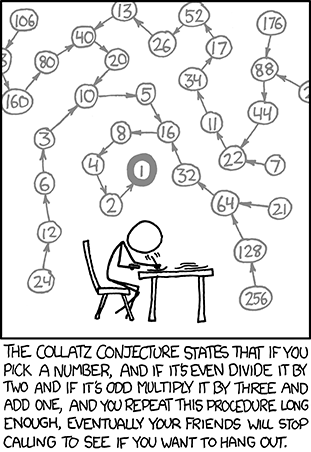 This comic is fine. It reminds me a little of the
Drake Equation
comic, in that it begins by telling you about a scientific principle but then just descends into a kind of meta-commentary on the principle itself. It's the kind of thing you could imagine him doing to death, but luckily he hasn't so far. So I'm not going to say much about the comic and instead use this as a way to talk about the intended audience of xkcd.
This is an interesting example of the hard math/easy math stuff we've been talking about a bit recently. It occurs to me that there are really two ways of looking at whether the science content of a comic is obscure or not: Some people might say this comic proves I'm wrong, that xkcd is not trying to broaden its audience to the point of stupidity. After all, they might say, who but math students has heard of the Collatz Conjecture? But there's a difference between not having heard of it before and not understanding it. The comic makes clear that the actual conjecture is that halving or multiplying by 3 and adding one will eventually lead you to 1. Even though it's not stated, it's clear. And once it's clear, someone with only a passing knowledge of simple math can understand the point. The math is simple. Someone could try it out themselves with any number they choose. So it's a highly
accessible
topic.
Contrast that with two old xkcd comics: #
12
and #
62
. In these comics, you really have to know what they are talking about to get the joke, and it's not obvious at all from the comic what a poisson distribution or karnaugh map is. It's a joke made for people who already know these things. That's the kind of thing we don't see anymore - the requirements, so to speak, of the comic have been lowered substantially.
The question, then, is whether that is a problem. I don't think it's a problem per se but it is indicative of the selling out of xkcd - the shift from actually wanting to make actual nerd jokes (and not "nerd as a subculture like any other" jokes) to wanting to have as broad an appeal (and as broad an audience of potential shirt buyers) as possible. What do you guys think?
Lastly, while randall's graphical depiction of the conjecture is nice, I find myself fascinated by the patterns in
this one.