Also see this, which is one of my, Rob's, rants, and is therefore inherently better than Person #1's lazy-ass drivel.
Hello everyone. Today's post concludes my guest week and in order to get you used to carl again, I decided to be fashionably late with it. Actually, I just didn't know what to write. At the time of writing, I still don't. Let's just see what happens.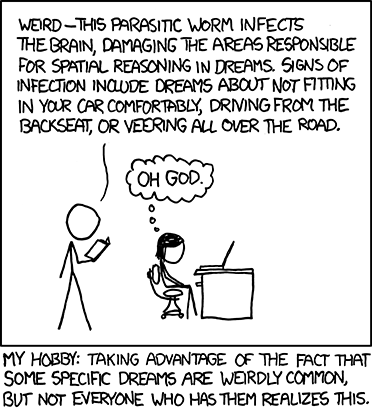 Ok, uhm. Well, I know something I can say about this. The art, as always, is extremely mediocre.
You don't even notice it, but more than half of the comic is text, and once you reduce it to the actual pictures, you get an absolutely meaningless scene. Comics are a visual medium. Xkcd is not.
Now let's try that the other way around. I will replace all of the art with two monochrome boxes:
Is it much worse than the original? The only thing the art clarifies is that the black box is quoting this from a book, other than that, it's the exact same thing. Now, I'm not saying that this xkcd is a fucking masterpiece, but it could and should be better. Let's mash it up, SMBC style. Sorta.
This is something Randall presumably found out one way or another and came up with this plan to scare a friend, and then decided to make it a comic. Why he didn't use mr. hat is beyond me, but whatever. The problem is just that it's not really that funny to begin with, mostly because the explanation needed is a bit long, but also because he's not exactly doing a good job at delivering it. Overall, the comic is pretty meh.
I don't even really know what to say about this one, and the forumites don't either, they're just talking about whether they had that dream. Some are saying GOOMHR which is bullshit because he didn't come up with the fact that these dreams are common. Fuck you, forumites
So I went to the irc channel at #xkcd-sucks to get some help:

(09:25:07 PM) person1: if you had to describe friday's comic with one word, what would it be?
(09:25:17 PM) rmason: look at me i'm person1 and i appeal to other people's narcissism out of my own laziness
(09:25:20 PM) rmason: DERP DERP DERP
(09:25:28 PM) person1: lol
(09:25:30 PM) person1: fuck you rob
(09:25:31 PM) rmason: the word is 'loathsome' btw
(09:25:33 PM) person1: you gigantic fatass
(09:26:07 PM) Sh0rtWave: Which one's that?
(09:26:15 PM) person1: the brain worm one
(09:26:28 PM) rmason: oh wait no it's GOOMH-bait
(09:26:30 PM) Sh0rtWave: One word?
(09:26:31 PM) Sh0rtWave: hrm
(09:26:31 PM) rmason: that is my word
(09:26:32 PM) Superbest: man, it's so meh I can't even find a word
(09:26:42 PM) rmason: i had a friend share it on google reader with a 'GOOMH'
(09:26:45 PM) rmason: i wanted to murder her
(09:26:47 PM) person1: ME TOO
(09:27:02 PM) The_Autodidact: is this that one friend that you hate for posting stupid stuff on twitter
(09:27:04 PM) Sh0rtWave: Presumptuous, is the best word I can come up with after "fucking stupid", but fucking stupid is two words.
(09:27:05 PM) rmason: no
(09:27:11 PM) rmason: this is a friend that i actually like
(09:27:18 PM) rmason: it made it all the viler
(09:27:46 PM) Superbest: I guess I could say meh, but it's even more meh than that word implies, somehow
(09:27:56 PM) rmason: ultrameh
(09:27:59 PM) rmason: megameh
(09:28:02 PM) rmason: MONSTERMEH
(09:28:12 PM) rmason: I am a huge fatass

fuck you guys.
I'm done.
also randall is in your head? how ORWELLIAN! I don't feel like this post is worth proofreading, so fuck you guys (again).