[Satanic hell-bird "Ravenzomg" has sent me this review. Maybe it's good. -Ed.]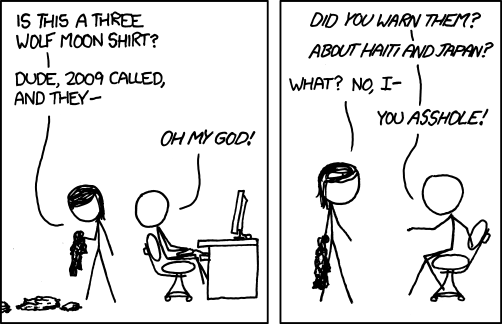 Title: 2009 Called./// Tooltip: 2017 called, but I couldn't understand what they were saying over all the screams.
Hello everyone, this is
Ravenzomg
of Ravenzomg fame.
Now this comic is made by Randall Munroe which makes it intrinsically sweet and worth 5 stars by itself, but once I actually read it, that's when the magic happened. After checking to ensure that I was in fact still in this reality, and not in some Randall Munroe fanfic fantasy again, I looked around to make sure that no one would be upset by my raucous laughter. Satisfied that I was indeed in isolation, I let my laughter erupt like a volcanic explosion, threatening the shoddy construction jobs of my bookcases, bookshelves, and bookholes. So awesome was this comic, I decided I simply had to print it out and put it on a shirt this instant! And so, after recovering from the laughter, I did just that with the assistance of an iron
(which I call "Randall")
and my printer
(which is called "Randall")
and a white shirt
(which I call "Randall")
.
I proceeded to dare the sunlight (after recovering from the second round of laughter originating from a glimpse of the comic, now on the shirt), understanding that I had to share this joy with more people than the internet could reach. So walking outside, I ran into a girl with glasses on, and our eyes happened to meet. The woman (for she certainly was not just a girl) looked at my shirt and knew from the stick-figures on my shirt that I, like the stick-figures, must be a witty, intelligent romantic who knows how to 'Have a good time' from time to time (if you catch my drift!). The women that approached me wanted to know if I would be her soul-mate and/or give them money for something they called "septuple integration". I told them no, because they didn't have near enough acne, and frankly someone with an XKCD shirt shouldn't settle for the first thing that comes forward.
I arrived at the comic book store, and instantly darted straight for the D&D section (The trading card geeks are such drags!) purposely standing away from those divine books of wisdom so that my stick-figures would show. While I was browsing through used dice (they were all D12s), I could hear aroused asthmatic breathing behind me. I turned around to see a slightly sweaty dream in sweatpants standing there. The geek told me that XKCD was the greatest and how I was, by association of my shirt, also the greatest (but less so than Randall, I corrected), and I was told that the geek wanted to "stick" my "figure". I was offered a swig of mountain dew, and I shuffled with the geek waddling alongside out the door and into the rest of our lives. Thank you XKCD.
Pros: Features witty retorts and cultural references barely seen in today's modern age.
Cons: My shirt will no longer be timely as of Wednesday the 23rd, as it will be supplanted by another diamond of hilarity.
Randall Munroe is too hilarious -- my shirt may cause someone to suffocate with laughter.
My shirt makes me sexually attractive to all humans -- too many options.
In conclusion, pretty sure we were all waiting for this. Mmmm yeah....
-Ravenzomg!