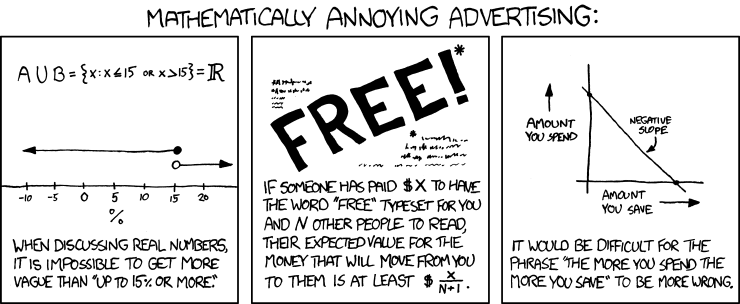 [Comic title: "Advertising"; alt text: "I remember the exact moment in my childhood when I realized, while reading a flyer, that nobody would ever spend money solely to tell me they wanted to give me something for nothing. It's a much more vivid memory than the (related) parental Santa talk."]
You'd better be fucking happy, Randy. You've finally produced a comic with so many blatant flaws I'm writing an actual goddamn review of it. Are you content now? Are you at ease, now that you have a few days where you can attempt to replicate what Megan's milk must taste like without being pestered about how creepy it is? Fuck you, Randy. Fuck you.
Let's start with the first panel, shall we? This one is annoying for the same reason
169
was annoying. Most notably: nobody actually uses that phrase. He's combined "up to 15% off all items!" and "save 15% or more!" into one utterly retarded phrase. Randy, you see, is a disingenuous fuck. He desperately wants to seem like someone who is smart, so he creates situations in which people do things which bother him, because he is smart and they are not.
The second panel is what really pisses me off, though. It's dumb on so very many levels. First, this isn't a mathematical complaint. Randy is trying to leverage game theory here to prove some trait about human behavior. This is about as stupid as it sounds. The biggest problem, apart from the fact that game theory is not, in fact, a hard-coded law of human behavior, is that the game Randy has constructed is flawed. It seems to assume that the only form of expected value possible is monetary.
The basic assertion he's making is that people don't pay money for advertising unless they expect to recoup that money somehow. He feels that this is somehow disingenuous of advertisers to call it "free." And he thinks he has proven this mathematically. This is phenomenally stupid, given that Randy is a webcartoonist. While perhaps he is ignorant of this fact by virtue of spending about 95 percent of his brainpower imagining what Megan's nipples look like, webcartoonists are (a) offering a free service (b) pretty keen on buying advertising for that free service. Most of them, no doubt, are hoping to make money off their webcomic eventually, but I imagine a large sum of them are just interested in getting viewers. They are buying advertising because they expect that it will net them more readers--even if these readers do not make them any money whatsoever. I know I've considered buying advertising for my personal projects, which have no advertising and which will almost certainly not make me any money. I would only do this because I like having readers, not out of any desire to have money.
I'm not going to list all the various and sundry things that people spend money on advertising that are free. There's lots, though. This second panel is just another disingenuous attempt at Randy to pass off his
incredibly poor understanding of human nature
as some piercing insight into how the world works, or some savage denunciation of the treachery of the advertising industry. "How dare you claim that the things you aren't charging any money for are free, when you expect to recoup your losses through other means!"
The last panel--well, I wasted all my rage on the second panel, so it's hard to get that annoyed at it. I mean, sure, Randy's statement is incorrect: while there is a sale on, the more you spend at that time will save you more in the future, provided you were going to purchase those items anyway and provided you don't alter your rate of consumption because of buying in bulk. But he is right in suggesting that the principle is misleading, though, again, it's not because of any sort of mathematical property. It's just because sales are meant to exploit various bits of human psychology that mean you'll buy things you otherwise wouldn't. But if I'm saving $20 on an item that I just purchased, if I buy six of them I just saved $120 on those items. The more I spend on them, the more I save, as a flat rate. (Percentage-wise, of course, it remains the same, and as it applies to the money I personally have, the more I spend the less I'm able to put into savings, but that's not what "save" means here.)
And of course he has to point out that the slope is negative. Good one, Randy! COULDN'T SPOT THAT ON MY OWN.
I feel a momentary twinge of pity for Randy when I read the alt-text. Maybe he just remembers it because of one of those weird quirks of memory, but he makes it sound like he remembers it because it was a life-altering experience. "That's the moment I became a cynic," he seems to be saying. (Though he's probably the sort of dick that uses the word "realist" instead, the useless fuck.) "That's the moment I came to understand the world."
I can understand a child finding that an interesting revelation. I'm sure I thought that companies gave away free things just because they were really cool, and not because they thought it would improve customer loyalty or make money. But to look back on that moment as something profound is kind of sad.