[I was unable to chase away noted Satanic carrion fowl "Ravenzomg", so instead I forced it to write a review. -Ed.]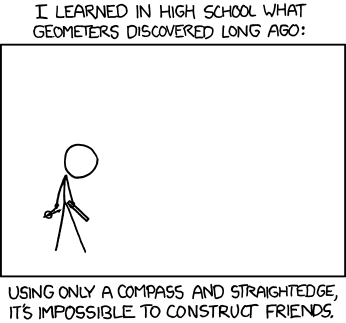 Tooltip: The Greeks long suspected this, but it wasn't until April 12th of 1882 that Ferdinand von Lindemann conclusively proved it when he constructed himself the most awesome birthday party possible and nobody showed up.
Good morning my precious pets! This is
Ravenzomg-58
with your latest fix of magnificent Randallian secretion!
This, my dears, is efficiently magnifiglorious. Don't let the simple style fool you, Randall truly understands how to show mood and tone [and sometimes both!] in his comics.
First, look at the posture of this faceless Void-Creature. Despite being expressionless and utterly featureless beyond his
accessories-du-jour
[as my Viking ancestors said], we can tell the dejected and completely vacuous hole that is formed within his soul! This creature, my friends, is crushed not by great mass [as would have occurred were our own Robyn to attend the Geometer's party], but by the great emptiness that is his friendless existence!
Now before you rush to the "GOOMH, Randall, I too am a friendless machination!" that I know you frail-but-well-read creatures must be thinking, let us continue on this journey into Randall's tangible brilliance!
Look at the off-centre* stickman, and the white Void left in the Creature's absence --- not only does Randall tell us of the Creature's loneliness ["tell"] he also demonstrates [or "shows"] it to us; he both shows AND tells! Brilliant. Just brilliant.
Now then, before you rate this a 9/10 for brilliant-but-lacking-secret-codes, beware you foolish children! For secret codes do prance amongst the Great Randall's words like fauns in the forest, waiting to surprise you at a moment's notice with a joyous reunion between the dreamer and the dream!
Unlike the common avian specimen, your delightfully brilliant Raven[zomg!] had noticed a trick in Randall's otherwise functionally florid prose. There were altogether too many Es in this note, which I recognized as statistically too many even [for Mathematics are also among my trades, besides Language, Sarcasm, and that other thing] for that luscious letter which we use with relish every time we mention our beloved Void-Creatures.
So, having discovered this quirk, the message was dissasembled, the letters scattered and reörganized into their proper meaning, the musings of our Genius Man-God!
Behold, my children, the wisdom and questing queries of the troubled wise man we have come to worship at our alters!
Is damp disco still free, my Lord? Only those who have left this existence truly know; only they will know.
*Fuck you, America!
Love and stuff,
Ravenzomg