[Look at all these guest posts. It's like it's goddamn Christmas or some shit. -Ed.]
Hey all, it's Gamer_2k4 again. I didn't think I'd be making another guest post so soon, but I had to say something after seeing Comic 878. Not only does it have potential, but it's clear that Randall spent more than his usual five minutes on it. The comic could have been great, but it was destroyed by none other than Randall himself. Because of that, this review won't be bile and snark, but rather a lamentation for what could have been.
If you haven't seen the strip itself, don't go to xkcd.com just yet. Let's start from the other side, by looking at the good parts before they were ruined. That means stripping out the ugly stick figure panels at the top and bottom and focusing on the middle.
Look at that! It's not bad! It's remarkably well-drawn for being in a minimalistic comic like xkcd. It conveys visually the concepts that Randall is trying to explore. It's showing, not telling. And honestly, I think it's interesting stuff. Sure, any mathemetician could tell you that recursively scaling something down will shrink it quickly. Honestly, any of us could probably figure it out in no time at all. But it's the sort of thing that never really occurs to you until you're confronted with it. Randall's confronting us with it, and he's doing it in a very compelling manner.
Let's throw out the fact that Randall was inspired by Wikipedia yet again. Don't worry that he expressed the concept simply, rather than in an excessively geeky manner like the guys at
xkcd sucks reboot
offered. Instead, realize that he only used seventeen words with the six detailed pictures and succeeded admirably in conveying this idea to his audience.
Carl often spoke of a
picto-blog
that Randall should make, where he explores his interesting ideas with illustrations and descriptions, but WITHOUT trying to force in humor where it doesn't belong. I fully agree. Want proof? Take a look at the comic again, this time with Randall's attempts to be funny included.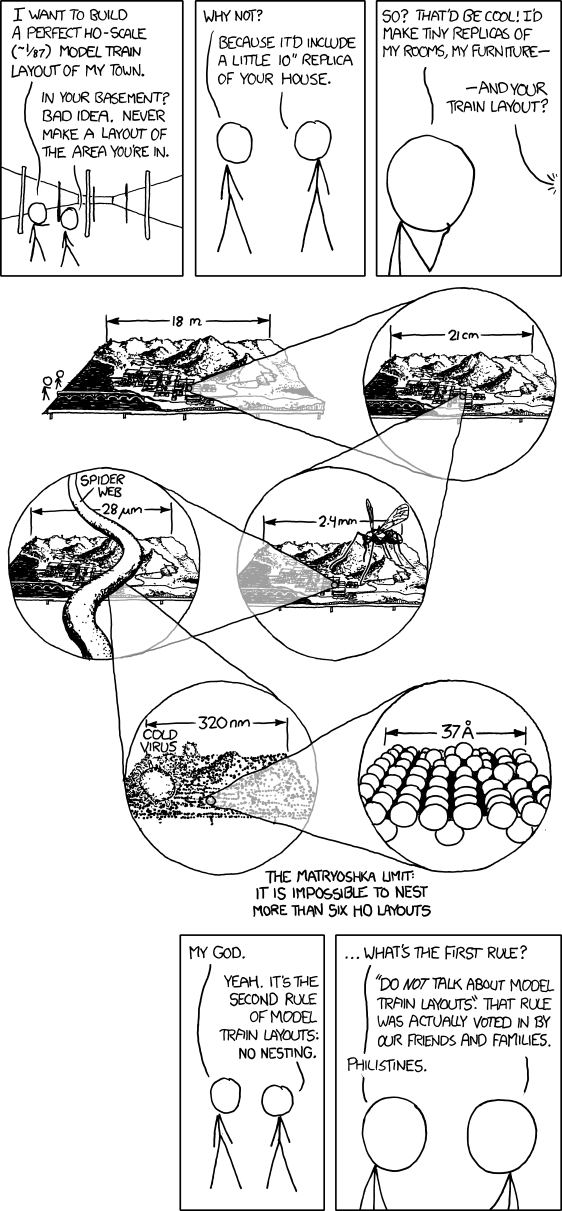 Okay, right away this is stupid. The basement is ugly, the stick figures add very little (especially note panel 2), and perhaps most importantly, NO ONE gets that excited about making 1/87 replicas of furniture and the like. So, in this top row, we have several staples of xkcd that give us a reason to continue this blog: poor (not minimalistic, but poor) art, unrealistic dialogue, unnecessary elaboration (the parenthesized "1/87"), and a rather notable lack of humor. And yet, these three panels could still be a strip by themselves! A joke, or at least an attempt at a joke, exists (the implied "you didn't think this through because making a true scale model would recurse indefinitely"), there's no post-punchline dialogue, and and the joke itself is implied, rather than directly stated. It's not Randall's best work, but it's certainly not his worst. For a moment I had thought those three panels WERE the comic strip today. As it turns out, they were just an unnecessary lead-in to the actual content.

The final bookend is far worse. The notion that you even have to have a rule like "no nesting" is retarded (though perhaps not necessarily unwarranted, given the characters that populate xkcd), and the
Fight Club
reference is the worst sort of humor: the type that expects you to laugh in recognition rather than because it was particularly witty. (I do give him credit for subverting it to say "yeah we suck and our families are sick of it," though.) Randall is trying to salvage two things that don't need to be salvaged: a standalone comic and a standalone picto-blog entry. The three components together form an unfortunate amalgamation where the sum is less than the parts, and it's further ruined by title text that doesn't really add much and is little more that an admittance of "I'm pedantic, opinionated, and I get my ideas from Wikipedia."

RANDALL. We've been over this before. Get an editor so that someone can tell you when you're destroying something good. Don't force yourself to work and rework your comics to death, and don't try to inject humor where it's not needed. You have plenty of comics that are supposed to be interesting, not funny, so why not just go with that?

It's strips like this one that remind me that sometimes, you're a pretty bright guy. You have interesting things to say from time to time, and you're occasionally more than a creepy, unfunny stalker. Work with that!

Make the picto-blog, Randall. Please.