[The two thousand and fourth gamer ever to live sent me this, a guest review for 876. -Ed.]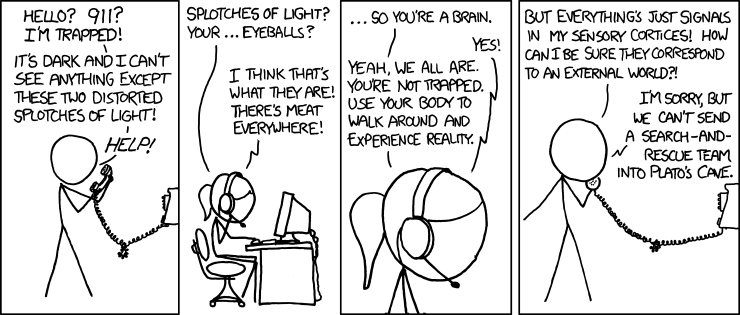 Hi, Gamer_2k4 here. Normally I'm content to simply comment on bad xkcds, but I felt that this one deserved its own post. Since it's clear that this comic is simply just a failed attempt to write a setup to a bad punchline, let's start by examining the "joke" and go from there.
First of all, it's clear that Randall doesn't understand the Allegory of the Cave, or, if he does, he assumes that we don't. Plato's Cave is about how true reality is unwelcome at first, but once you understand it, you see how foolish your earlier delusions were. It's NOT about the nature of existence and the mind's relationship to the outside world. The notion of a "search and rescue" team is redundant, since that's the whole point of the allegory (bringing people into the light).
On that note, the alt-text is downright retarded. The issue was never getting the people out of the cave. That's a foregone conclusion. Even if you tranquilize them, experiencing the light is still going to be unpleasant once they wake up. Any removal from the cave is going to be unwelcome, and tranquilizers won't change that.
And look! I haven't even gotten to the rest of the comic! It's taken two full paragraphs to properly trash the idiotic idea that Randall tried to form a trainwreck of a comic around. The major point of failure is the operator herself. Her dialogue is unnaturally constructed purely to move the comic along. There's no way she could discern the guy's incoherent babbling that quickly, and the fact that she does proves that the setup is poorly thought out and just awful in general.
Then there's the caller. In just four short panels, he goes from not being able to see or comprehend the outside world (a feat strangely at odds with his ability to call and communicate with other people) to simply being unsure that it represents a reality and not a simulation. This seems odd for someone who's self-aware to the point that not only does he recognize he's a brain, but he also knows that even that is simply an organ in a larger body.
There is not a single redeeming quality in this comic. The characters, the dialogue, the supposed punchline, and the alt-text are all downright awful. I get the feeling that Randall, in a rare trip to a "soft science" like philosophy, got a half-formed idea for a "joke" but just couldn't pull a comic together around it. You know, for all the flak he gives the liberal arts, Randall sure tries to use and reference them a lot. Perhaps if he bothered to study them, his comic wouldn't be such a constant pile of garbage.