[Comic title: Fairy Tales; alt text: Goldilocks' discovery of Newton's method for approximation required surprisingly few changes.]
As you all know, Randy is particularly fond of correcting errors in his comics without so much as a comment noting his previous error. This extends to adding a "Zing!" to the end of alt texts which are widely seen as being unnecessarily elitist, though not, apparently, to adding Hey Jude to his shitty chart comics about Hey Jude.
I've always roundly mocked Randy for this tendency before, because it's funny, and other webcomics people who occasionally upload errors usually acknowledge them somewhere, even if it's just on their Twitter streams. But I've never felt that it was really that significant before. It's just a minor, stupid thing.
Then came today's comic.
The image above is a copy of the original comic. Reproduced below is the corrected version.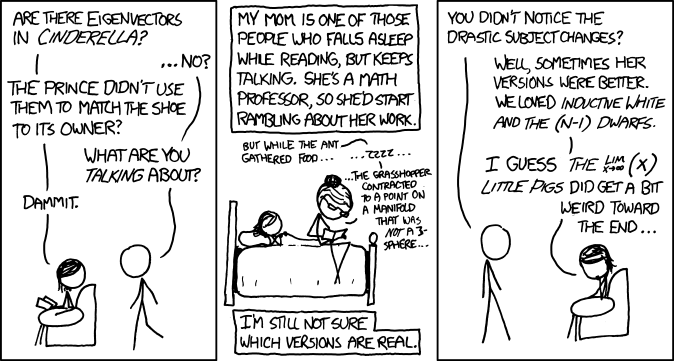 What the
fuck
, Randy? I mean, I know you don't bother proofreading, but do you not even fucking
look
at your comics before uploading them? Just a fleeting glance should have told you something was hideously wrong here. But you don't even have time to do that?
But notice that the blocking of the text is different. It almost looks like this was a deliberate stylistic decision--it's hard to imagine how he could make an error of something so colossally stupid. See how the "Dammit" moves, for instance. Was this deliberate?
Not much to say about the comic itself. No doubt in response to assertions that Megan of the Bountiful Milk is always used as an insert to be the voice of truth and perfection, here she is doing something which is moderately unreasonable, but in a way that is delightfully quirky (and, no doubt, utterly arousing to one such as Randy, Math Enthusiast).
This comic might have had merit if the joke weren't merely Randy taking random words from fairy tales and replacing them with random terms from mathematics, and then providing a narrative for why this is happening. Wasn't there a time when there was intelligence to your jokes, Randy? Not just LOLRANDOM juxtapositions that have no reason to be juxtaposed?