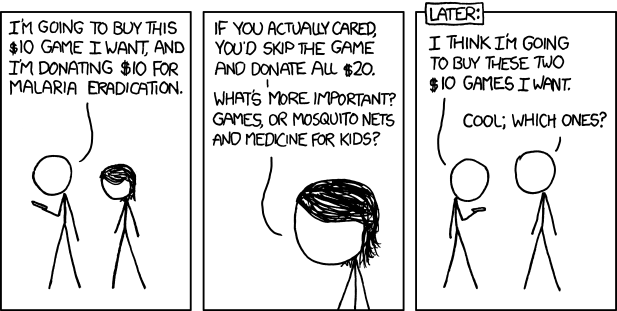 [Comic title: Charity; alt text: "I usually respond to someone else doing something good by figuring out a reason that they're not really as good as they seem. But I've been realizing lately that there's an easier way to handle these situations, and it involves zero internet arguments."]
In the previous post, I touched on the fact that Randall appears to have some deep psychological hangups with regard to altruism and his own cynicism. Indeed, much of the idiocy of yesterday's comic, as today's comic (specifically the alt text) proves, came mostly from the fact that Randy is unwilling to accept that people are altruistic. Or even remotely well-meaning. As he says in today's alt text, he tries to think of a way that, when someone does something good, they aren't actually being good. This is severely disordered behavior. Randall is actively looking for ways to think less of people around him. And people accuse me of being too harsh when I say that he is a disingenuous asshole who tries to make people not-him look bad in order to make himself appear smarter.
Randy's disordered interpersonal interactions aside, I'm not seeing a joke here. The format is basically Randy justifying his misanthropy.
Panel 1 has Generic Guy #1 saying "I'm going to buy a ten dollar game, and then donate ten dollars to charity!" This is completely normal behavior for a human who likes entertainment but also likes charitable causes.
Panel 2 has Megan Of The Milky Nipples, Who Can Do No Wrong, making a false dichotomy: "if you really cared, you'd just donate all your money to charity. It is impossible to simultaneously care about a cause and want to play video games, so state your true loyalties, you dishonest fiend."
Panel 3 has Generic Guy #1 telling Generic Guy #2 that he's just buying two video games. He has made his choice: that choice is video games. He has followed the dictates of Megan Of The Milky Nipples (who, incidentally, is completely naked in this comic) and found himself lacking, but at least now he can play two games!
This isn't funny. If it weren't for the alt text, it would be one of those comics one quickly dismisses as boring and ultimately forgettable. But with the alt text, it takes on these really ugly notes of cynical misanthropy. I don't have much else to say but: you need help, Randy. You don't have to live this way.