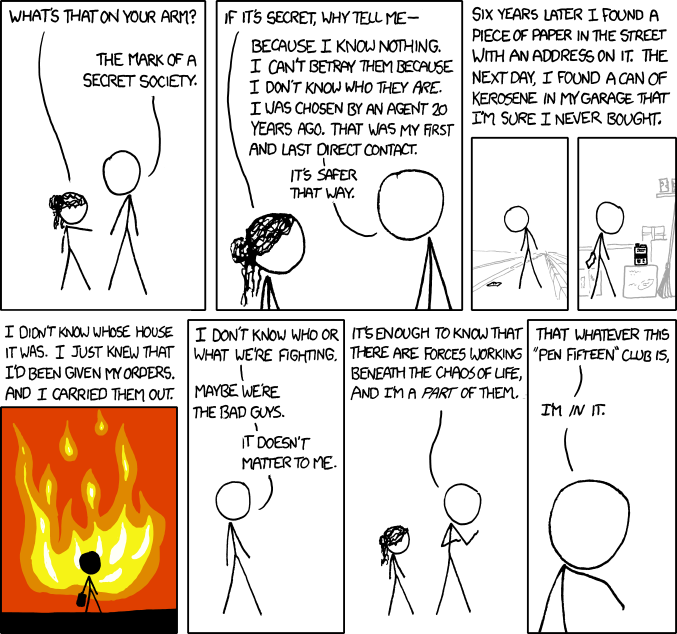 [ALT: I'm a solipsistic conspiracy theorist. I'm sure I must be up to something, and I will not stop until I find out what.]
At first I thought this was going to be a reasonably boring comic where Randy does an elaborate build-up for a useless nerdy reference, and I was going to be disappointed. Imagine my pleasure when instead it was an elaborate build-up for a penis joke. How I laughed! I am actually still laughing now, and it has been an hour and a half since I read it.
As you well know, penis jokes are the single greatest form of humor, and arguably the greatest form of art in general. Merely uttering the word "penis" makes what you have to say instantly hilarious--suggesting it with subtlety makes you into a god. A god, not just of humor, but of all things. "Pen 15." HOW INCREDIBLY HILARIOUS.
So, I take back every bad thing I've ever said about Randy. I'll even ignore that he is showing his pen15 to mini-Megan, which a day ago I would have said was creepy and weird. No longer! Randy is above reproach--he has finally come around.
I'm going to tell you all a story. (Think of it as my XKCD equivalent of those creepy and uncomfortable Christians telling you about the time in high school they sacrificed their best friend to Satan but ultimately came back to Jesus because why not?) When I was a young lad, I read XKCD every day. Then came the comic that I know only as The Black Day.
Yes, that's right. Comic 194, known only as "
penises
." I am not ashamed to tell you that I laughed to the point of hospitalization upon reading the title. And then, when I came back home, still grinning like a mad fool, I read the comic. Was this--RANDY? HOW COULD YOU CRITICIZE MY PENISES? ROAORASKFLASNFASFSAFSAFLASKFNAFf
So I started hating XKCD. How could I not? Randy criticized the one thing I love: penises, and jokes thereof. Sure, I found justifications like "Randy is the worst writer and artist in the world" and "these jokes are actually offensive," but we all knew my heart wasn't in it. No, I hated XKCD for one reason and one reason only: he mocked penis jokes.
But then today happened. Today! This glorious today! Randy made the most epic of all penis jokes! I am hereby changing the title of this blog from "xkcd sucks" to "xkcd sucks... PENIS LOLOLOLOLOLOLOL," and it will be a breathless chronicle of xkcd and its penis joke potential. Truly this will be a wonderful day.
I hope that you, too, will see the light of penises and join me, cuddlefish no longer, but penisfish, eager to probe the depths of XKCD. Together.
EDIT: Intrepid xkcdsucks adept "procto" informs me that joining the "pen 15 club" is a thing that children do to each other, thus making this a penis joke
about children
!!!!!!!! Truly this is the greatest joke that has ever, will ever, or
could ever
be penned. Long may Randall reign!