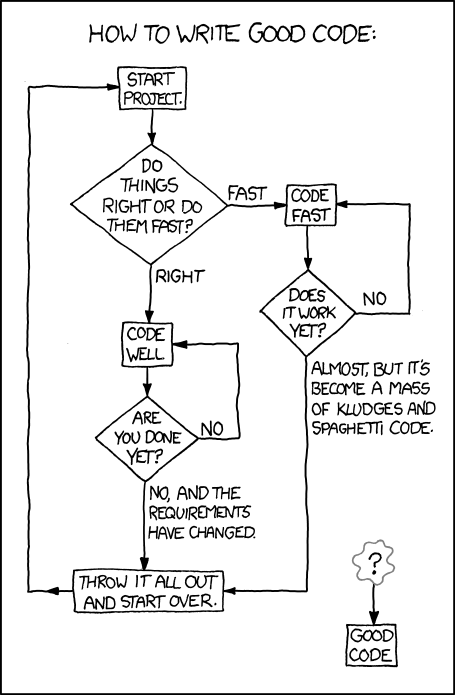 [ALT: "You can either hang out in the Android Loop or the HURD loop."]
I should start by pointing out that I did not follow the helpful step-by-step
guide
that Randall constructed to aid in the reading of flowcharts--most notably, I did not go drink, nor did I install BSD. This may have had an effect on my understanding of the latest comic.
When last we left our intrepid Megan-stalker, he was laid up with convulsions after having had to interact with "wrong people." Still weak from the fit, he was unable to exert the usual, grueling effort that he puts into his comics. Fortunately, for just such an occasion, Randy keeps a secret weapon up his sleeve--the chart comic! And of all charts, there is no chart better than the flowchart (where by "better" I mean "easier," and Randy definitely needed some rest).
So it was only a simple matter of finding a subject for his flowchart. As a programming enthusiast--he likes programming so much he has hired a programmer to handle the code-related aspects of "Randall Munroe's Comic About Nerdy Things Such As Programming"--the decision was easy. But how, he found himself asking, could you transfer something so mysterious and godly into an amusing flowchart? The question contained its own answer: by marveling at the mystery of someone producing good code.
He started with the common truism: "good, cheap, fast, pick two." As Randall's comic is one for lesser programming enthusiasts--ones who are not enthusiastic enough to
hire
their own programmers--he chose, wisely, to remove "cheap" from this selection. And, since the question was how to produce good code, he would have to change "good" to "right." As every programming enthusiast knows, it is an easy choice to make when you begin a project--do I wish to do this the Correct Way, as approved in the Book Of Correct Solutions To Programming Problems, or do I wish to shave time off it?
He carried on like this for some time, ultimately generating a loop which indicates that completing a project is impossible (without, the implied message seems to suggest, hiring your own programmer to do it like a true programming enthusiast should)--really he has no idea how to make good code! And therein lies the joke, of course. Good code is a mystical creature that no mortal can attain. Such raw perfection--it is to the true programming enthusiast what faster than light travel is to the astrophysics enthusiast. A beautiful dream, something that makes for good stories, but far beyond the realm of possibility.
The difference, of course, is that, while wormhole drives are the stuff of science fiction, programmers are real. Randall has even met one once. And that has given him much joy in these dark times.
EDIT: Also! Mysterious commenter "Intro to Jhum" has created a blog where he does XKCD/Dinosaur Comics mashups, and I like it. It is
here.