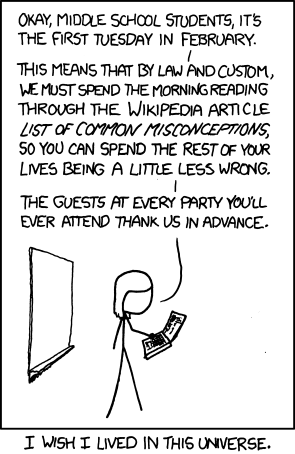 [ALT: 'Grandpa, what was it like in the Before time?' 'It was hell. People went around saying glass was a slow-flowing liquid. You folks these days don't know how good you have it.']
This weekend, Randall went to a party at the insistence of his parole officer--perhaps spending time in the company of other humans would help him to not think about Megan for even the briefest of moments (his current record is 2.2 seconds). The experiment was an unqualified success--but unfortunately it forced Randall to interact with people who don't have perfect knowledge of the universe. It forced him to interact with people who were . . .
wrong.
I've met these "wrong people" before in my life, of course. My general solution is to politely correct them, and if they persist in their erroneous beliefs, to shrug and let it pass. (The exception, of course, being the erroneous belief that XKCD is enjoyable. My reaction to that is to begin frothing at the mouth and leap at them with a terrifying speed that belies my hideous bulk, and rip out their jugular vein with my teeth.) There are worse things in the world. It doesn't bother me or stick with me--certainly, such people are not "my people," but I hold them no more ill will for it than anyone here holds me ill will for posting my opinion in a polite and reasonable way on the internet.
This reaction is not possible for Randall Munroe. No, Randall will loudly correct them, veins bulging, eyes twitching. And then the world will spin and go dark for him, and he will have to lie down for a while, gently convulsing, until the fit passes. Even then he is aggravated for days and days on end. That someone out there exists who could be wrong--this is unacceptable. They ought to be rounded up and shot. Perhaps one day they will.
But Randall Munroe is not a violent man. He has only ever raised his hand against another when they tried to enforce one of the dozens of restraining orders Megan has against him. There must be a way to be rid of these wrong people . . . proactively. But how? He has spent his entire life in pursuit of facts. Not everyone can be as dedicated and brilliant as he.
The answer, of course, lay on Wikipedia. Surely this absolutely inerrant source of knowledge could be put to use! And it already had a list of things about which people are wrong. No doubt that list would expand as more "wrong people" were discovered--a task to which he could dedicate himself endlessly. He would be as loyal to this as he was to Megan--and it would never file any restraining orders against him (though it would probably never forget to close the blinds when changing at night, which was definitely a drawback).
Distributing this idea to the masses would be trivial, of course. All he would need to do is subtly pick a not-too-distant date in the future and post it on his popular webcomic, "Randall Munroe Tells You What Is Funny Today (You Should Probably Laugh At It Or He Will Cry)". His loyal fans--all of whom suffer from the same symptoms when confronted with a "wrong person"--would quickly snap up the idea.
In a month's time, the internet will be filled with people reading the greatest Wikipedia article of all time. I am utterly confident that they will be polite and considerate about this, and will in no way be smug or condescending--and certainly not sycophantic. And as there is absolutely no precedent for a suddenly popular idea (or "meme," as internet scholars refer to it) becoming insufferably obnoxious, I can only level praise on Randall Munroe's great idea. Well done, Randy!