[Noted Satanic carrion fowl "Ravenzomg" has emailed me this work of perfection. Look upon its works, ye mighty, and despair. -Ed.]
Rob fumbled with his keys, anxious to open the door to his apartment. The air was cool, but he knew he'd find warmth in his home. Sliding the door open, he tossed his fingerless gloves (so not Hipster, they're just really convenient) onto the table and pushed the door behind him, arching his back to stretch his stiff, swollen muscles.
The day of biking hadn't gone according to plan (the biking keeps me fit, he reminds himself, it's totally not a Hipster thing), and he'd just barely escaped a two-car collision that could've pounded him into limp, lifeless man-meat.
Rob took the time to slip the shoes of his perfectly formed feet, standing a moment as the blood flushed into them in the absence of their binding, his long, curved appendages now free to enjoy the hardwood floors (See? Totally not Hipster, he nearly said aloud to the room).
As he walked into the living room the hair on the back of his neck stood on end, raised with anticipation of the unforeseeable. He paused, as if stopped by a barrier, and pushed himself with concerted effort through the doorway into the dark beyond.
"Hello, Rob," a voice called, and he gasped.
"It can't be!"
"But it is I, Rob, indeed."
"That stilted prose! I'd know it anywhere!" Rob lurched forward, and with a jerk swung his arm at the light switch, hammering it on as his pulse raised. He could feel it, he thought, pulsing in his entire body. Despite his injuries— or perhaps because of them, he thought with a mad grin— he felt eager and ready to face his enemy. "Randall!"
"Yes it is, Rob." He lay there, lounging on the couch with a laptop on the angular coffee table, the networking window still open, flashing with a pulsing necessity. His wi-fi! The bastard!
"How did you get in here?" Rob ejaculated hoarsely, gritting his teeth in a mix between shock and agony, tweaked with the slightest pleasure. At last, here was his chance to show the Man what he truly felt.
"I know quite a lot about you," Randall moaned.
"The blog! You know how I feel about you?" Rob stepped closer, clenching and unclenching his fists in time with his pulse. Thump. Thump. Thump. The rhythmic beat was ecstasy to him, and he knew that it was only just beginning.
"I know how you think you would like me to think you think of me," Randall replied with agonizing pronoun use.
"That's what she said!" Rob retorted, and Randall's face for the briefest moment, those perfect contours before so controlled and suave, slipped into wide-eyed pleasure.
"You remembered!"
"Number 174, it was always my favourite." Rob sat down, mere inches from Randall, his eyes beginning to water. "I used to love your work, I used to be your holy warrior! But you've changed! And — I just can't stand to see you desecrate your holy relics, those sacred 300 comics of ere!"
"But Rob," he says, his voice now a whisper, "It was all a lure. I'd become so popular, that I— I...." his voice broke and Rob's hand flung to Randall's bony shoulder, gripping it with an intensity he didn't think possible.
"I always thought you'd forgotten me..." Rob moaned, but Randall shook his head, eyes glistening.
"No, Rob, you were always my favourite. This was my way.... to reach you."
They sat in silence only a moment before the inevitable occurred, and Rob was all too pleased that he lurched forward first, his lips all to eager to meet their match, the match he knew was always destined —Fated! He wanted to scream. This union was ordained by a Fate the universe could not explain.
Randall pushed Rob back, straddling him in one fell motion before Rob could feel slighted, instantly knowing that that riding position had been used on no other before him. Randall leaned in, and Rob sighed, tasting his breath on his lips. Cheetos. Not the cheap knock-off brand, but the real thing. But as Randall leaned closer, their lips mere inches apart, Rob's joy a throbbing reality that threatened to envelope both of them, when Randall paused, uncertain.
"What is it?" Rob whispered softly, his hand caressing Randall's side.
"Pole-vaulting."
"You.... you want to try that?" Rob asked, his cheeks flushing. How did he know his every desire? Truly, no other man could love Rob like Randall could.
But Randall had swung his shapely thigh over Rob's tender midsection ( and not from the accident, he realized, grabbing the laptop and typing away hurriedly.
"You know gravity's different depending upon where you are?" Randall asked rhetorically— he was at work now, and he needed no input.
Rob sighed, tears flowing all too eagerly. But these were not the tears of anticipation, nor ecstasy: They felt like his lifeblood, flowing straight out of his eye sockets. His hand reached all over Randall, daring a response.
But none would come; the man was at work now, with no time for that sweet distraction. His fans depended upon him, Rob realized. And that's why there could never be a Mrs. Randall.
"What if someone re-evaluated the old records based upon that?" Randall's voice called from the living room, as Rob poured himself a heaping mug of whisky.
"I bet they'd be really aaaaaaangry!" he continued. Rob was silent. He knew it had to end, he always knew it. But he'd bought a second laptop, and damn straight he was going to use it. Holding the whisky in one hand, he walked to his room and withdrew that laptop, used only the night before.
"And, since they're athletes, they'd be great at athlete stuff! Y'know?"
Rob sat down next to Randall, setting his laptop besides his. He opened the window and typed the words into his browser slowly.
He closed his eyes, and opened them to see the XKCD site on the computer in front of him. To the right, the second laptop was open to XKCDsucks, ready to post a scathing comment on the thread he'd created. But that would come later— for now, he had to draw his XKCD comic and upload it before midnight.
As he sat alone in the room, his midsection still numb from an accident he barely remembered, he started to wonder: Did I create Randall, or did I create Rob? Who did I used to be before all this?
But there never would be an answer. Just as there could never be a Mrs. Randall, there could never be a Mrs. Rob. The dichotomy of the man meant that he would be all that he ever required.
With a sigh, he hit upload and scuttled over to his second laptop, loading the XKCD site as if it were something new. His comic was up; of course it was. Ready to be torn apart with meaningless ad hominem attacks, because really: what in this perfection could genuinely be disenchanted?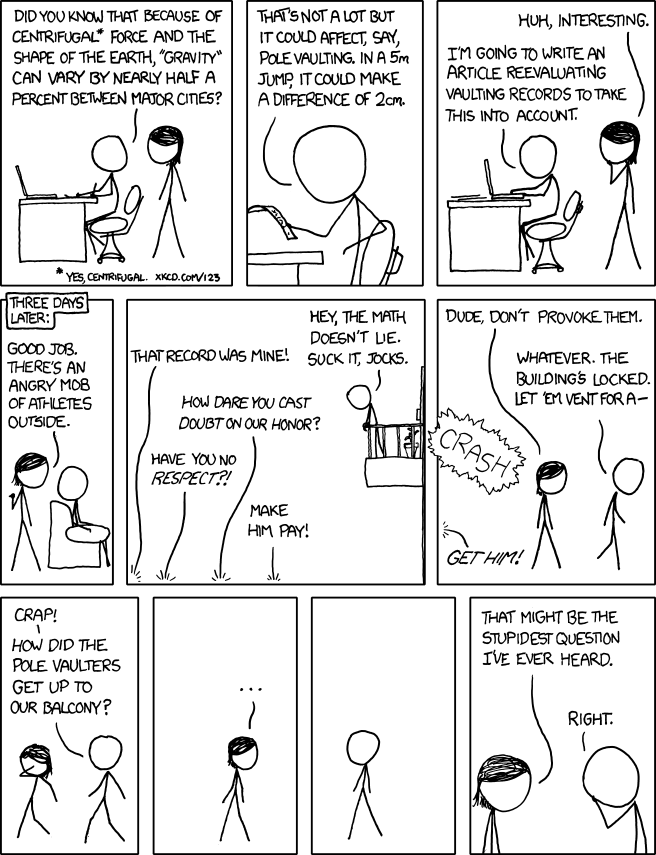 Title: Local G. Tool-tip: In Rio de Janeiro in 2016, the same jump will get an athlete 0.25% (>1cm) than in London four years prior