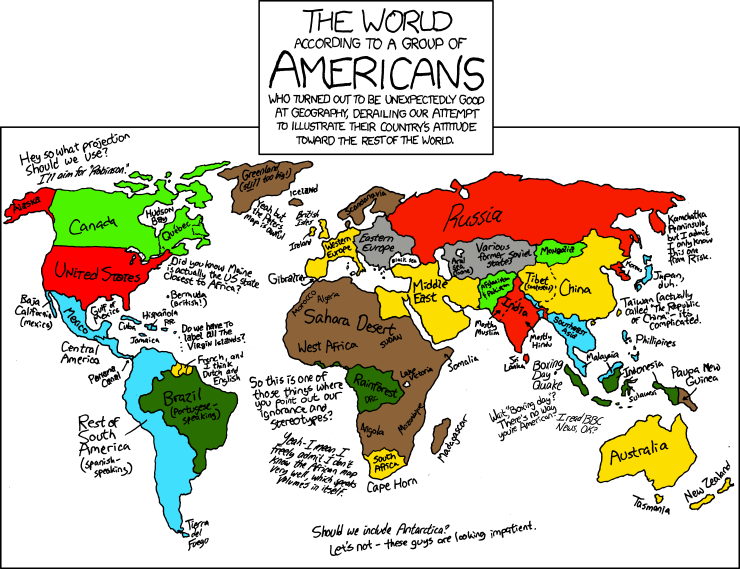 [Comic title: World According to Americans; alt text: It's not our fault we caught a group on their way home from a geography bee. And they taught us that Uzbekistan is one of the world's two doubly-landlocked countries!]
If there is one thing Randall Munroe dislikes more than being rejected by Megan, it is being told that he is dumb, even indirectly. And while he enjoys laughing at the stupidity of others, he is also dimly aware that he, too, is an American, and
he
certainly doesn't match the stereotypes presented in one of the maps he is here satirizing. Affronted by this, uh, affront to reality, Randy set out to prove everyone wrong.
Of course, Randy doesn't know the first thing about geography, but this is the webcomic "Randall Munroe Knows The First Thing (And Several Subsequent Things As Well) About Everything," so he couldn't let his readers know that. So he opened up Wikipedia and possibly some previously unused books, and began his work. He ultimately spent several hours of painstaking research to bring us his final product, a map which is meant to look as if it was drawn in a few minutes by some people who have an expert level of familiarity with the subject.
Then he sat back and did that thing people do when they're done with projects where they dust off their hands, even though there's no actual dust on them, and said, "Yes. Yes, I am incredibly brilliant and clever. Nobody could have ever done this, and now the world knows how smart I can appear to laymen when I have unlimited and undisclosed time to do the research."
But then a disaster occurred--how could he convey this message to the world while making them (a) want to buy it as a poster and (b) burst into fits of hideous laughter,
Natalie Portman-style
? Fortuitously, his original inspiration would serve him there. Randall "I Know My Audience Exceedingly Well" Munroe did not earn his nickname by not knowing his audience exceedingly well--they had no doubt laughed at the maps that earned his ire, just as he once did before his startling revelation. So he would prepare them to laugh at the stupid, as is their wont, and to marvel in the greatness of Randall Munroe, at the same time.
And then, because Randall Munroe is a firm believer that the only element to humor is subverting one's expectations, he would pull an epic subversion on them by making the map
in no way funny.
Oh, how they would laugh!
UPDATE:
Noted Hitler fan "ray" has sent me
this map
, which removes all of Randy's sad attempts at commentary on this one.
====
On an unrelated note, I was watching Fox News the other day, as is my wont before I write angry, racist comments anonymously on news items about the president and go to bed, and I was alarmed to hear about this
new, terrible thing
which is happening online, called "trolling." I wanted to warn you all about this serious problem, and to assure you that if any of these so-called "trolls" are found here at xkcdsucks, they will not be given a "bridge" to "hide under"! You have my assurance of that!