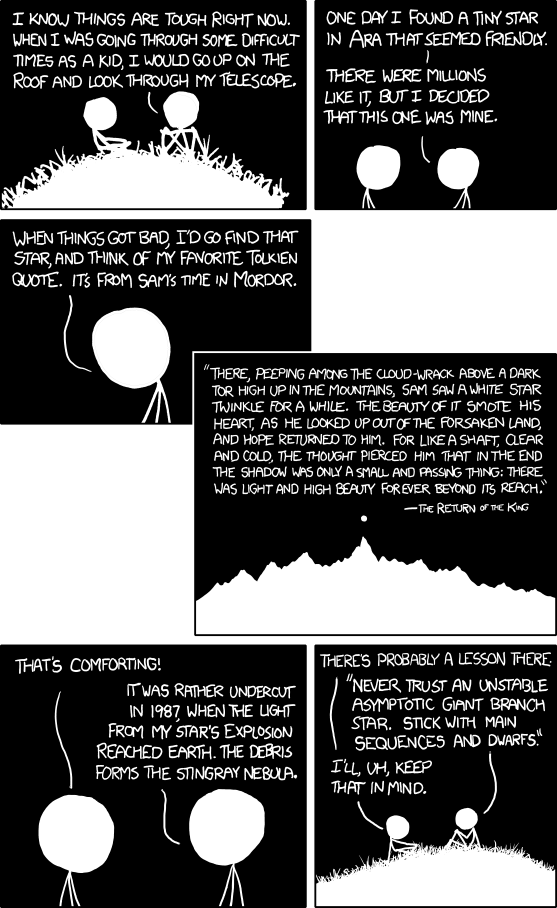 [Comic title: "Stingray Nebula"; alt text: Earendil will patrol the walls of night only until the sun reaches the red giant stage, engulfing the Morning Star on his brow. Light and high beauty are passing things as well.]
Say what you will about Randall Munroe, he knows woe. Not only does he have a relative who has a debilitating illness (which apparently makes his head turn into a freakish polygonal abomination as seen in panel 1), today marks the one millionth time he has been rejected by Megan. But there is always hope, burning bright in the distant galaxies.
Until it explodes, anyway. (oh man i am so hilarious)
The comic in question is derived from that greatest of life experiences, Knowing Someone Who Is Kind Of Sick But Will Be All Better Eventually. Randall has found this to be a veritable font of comics both hilarious and poignant. And he has apparently read Tolkien's
The Chronicles of Narnia,
which honestly surprises me, given his obvious predilections towards religion. I should not doubt him in the future.
He starts, as many of his comics do, with a completely unironically serious comic. The idea, of course, is to make you think that this is going to be an uplifting story about having a star that will give you comfort or whatever. But then he pulls an
entirely unexpected twist
and is like "YEAH TOO BAD IT WENT SUPERNOVA, MOTHERFUCKERZZZZZZZZ" and kind of grabs his crotch and makes painful thrusting motions with his face all scrunched up like he's in pain.
This is, of course, the very peak of brilliance. You see, Randall Munroe has finally captured the formula. The way to make the greatest possible joke is to set up something which could be completely unironically serious, and then lay out a tired and predictable punchline that demonstrates an impressive lack of imagination and doesn't really add humor to the joke by any possible stretch of the imagination. Add some post-punchline dialog, and you are fucking
set.
As is traditional in these cases, the joke is neither funny, and the attempt at a serious comic is ruined irredeemably. SCORE.
The impressive part, of course, is how he ignores the obviously badass opportunity to say "do you have any idea how awesome it is that I picked a star that went supernova? THAT IS THE MOST BADASS THING EVER." That would have been obvious, so Randall "I Would Never Do Anything Obvious" Munroe rejected it outright.
And that is how the latest masterpiece is made. Namárië, bitches.