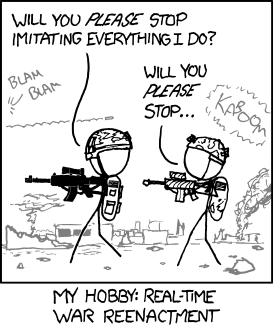 [Title: Modern History. ALT: During the week, I research the character by living in his house and raising his children.]
Someone once said that "all is fair in love and war," and Randall Munroe has been feeling the hurt of that anonymous truism recently. You see, as much as he would like to protest that it isn't
fair
that Megan has no fewer than seven hundred restraining orders filed against him, there is a quote which disagrees with him. So, meditating on this little truism, Randy has remembered that war is a thing that happens sometimes. And so our comic is born.
It is a little-known fact that the reason Randy's dialog is so terrible is that he starts with arbitrary restrictions. Much as with the famous "okay, middle school students" greeting, the phrase "will you please stop imitating everything I do" is not a phrase that any human being would ever utter. Why, then, does the brilliant writer, Randall Munroe, insist upon writing such dialog?
The answer is quite simple, my dear cuddlefish. Like many great artists before him--Hemingway with his famous six-word story, Kobayashi Issa's masterful haiku, and Nic Cage's acting only in terrible movies--he restricts himself to one frame. It is this restriction that creates such beautiful art. Though on
many
occasions
, multiple frames would seem to be more logical, it would cease to be "Randall Munroe's Single-Frame Comics" if he did that. So he limits himself. He can't use frames to establish context that would allow for less forced dialog, or to use pacing. He must stick rigidly to his single frame.
Despite its obvious limitations--if not, indeed, because of them--Randy has here created a beautiful satire of modern warfare. Our soldiers are so pampered by their constant gayness and so on that they are more like war re-enactors. They are war enthusiasts. They are, in a word,
hobbyist soldiers.
He contrasts this, incredibly hilariously, with the increasingly rare serious soldier--patiently requesting in stilted language that the hobbyists show some respect. They do not, of course. Our pampered soldiers know nothing of respect. Now all they know is gayness.