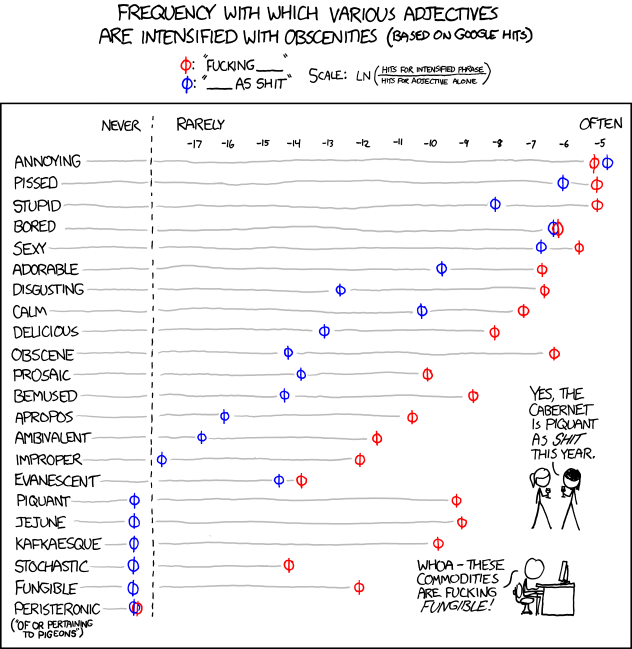 [Alt: 'Fucking ineffable' sounds like someone remembering how to do self-censorship halfway through a phrase.]


This
Tuftean bullshit
has got to stop. There was that stuff about which
numbers
turn up most in google searches, that stuff about which
games people get naked to
, and which memes have
apparently existed
, and google proving that you need to
kiss more people
. I don't know who finds google search results interesting or funny, but it's certainly not me.
Apparently more obscure adjectives are combined with obscene intensifiers less regularly than more common adjectives. This is not particularly exciting; the sorts of people who use the word "evanescent" are probably a bit more of a careful, erudite (erudite as
shit
) lot, and less prone to vulgarity.
I guess part of the point of this comic is that some words turn up with certain foul-languaged descriptions more often than with others. I don't know. The visual display is actually pretty damn crappy (it's pretty fucking pretty darn crappy) so I can't tell just by looking. The horizontal axis is a measure of frequency of "fuck" or "shit" occurrences relative to non-fuck-shit occurrences, but since it's the natural log of the ratio I can't intuitively see whether some of these patters are meaningful or not.
All the other problems with this graph are generally the same as the ones linked to above (and linked to
here
as well).
=========
Take a look at comic 5, panel 3 in
today's Kate Beaton
. Then take a look at
today's Kris Straub
. What's up with that? I guess it's a coincidence? Or perhaps there is some greater cultural reference that I do not understand.