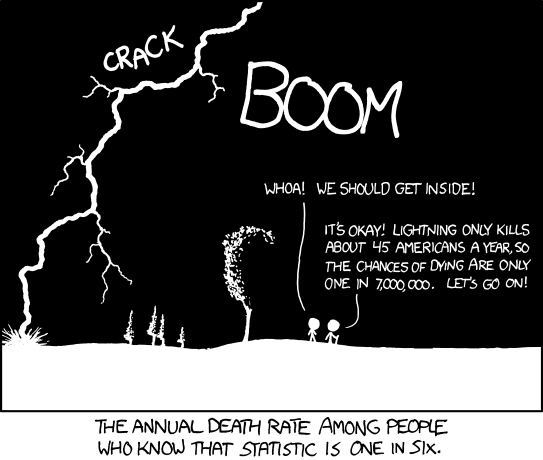 [Alt: 'Dude, wait -- I'm not American! So my risk is basically zero!']
Today's comic is pointing out that sometimes, if you are stupid, you may use statistics incorrectly. You may "abuse" them, if you will. It's territory which has proved fertile for xkcd in the
past
(on
numerous
occasions
) as well as for many other comedians. For example, I remember an old joke in Mad magazine showing two people discussing a lottery - the man buying a ticket says "I figure I'll either win or I'll lose - so the odds are 50-50." There's also the well known joke about a mathematician who sneaks a bomb onto an airplane. When he excitedly tells his seatmate what he's done, the other passenger is horrified. "But - why would you
do
that??" he asks. The mathematician proudly explains: "Well, I figure that the odds of someone bringing a bomb on the plane are pretty low. But not low enough. So I thought to myself: What are the odds
two
people bringing a bomb on board? Damn near zero!"
Anyway, I'm not saying these are better jokes than the comic above. I'd call them about equal. But given that the above - both xkcds and other jokes - came into my mind nearly instantly, I'd say it's a pretty bland, overused topic. I'm not saying statistical abuse can't be fun, though I think most of the fun comes from laughing at
actual
examples that people give (in, I dunno, the
media??
) as opposed to made up ones.
I'm in total agreement with everyone who says the caption isn't necessary: The panel itself makes clear that a man is making a poor decision based on his abuse of statistics; the prospect of him being injured is what makes the comic funny. The caption doesn't add much to that concept. It's not 100% worthless, as it adds a weird, introverted statistic about a statistic, so that's why the folks who says "put it in the alt-text!" are correct.
-----------
Jon Stewart and Steven Colbert seem to have gotten a lot of traction out of this strategy recently, so I'll copy them: I have an important announcement to make, but I am not making it now (HA HA!). I'll make it in a few days, timed to coincide with comic #800. For fun! But seriously, it's going to be
big.