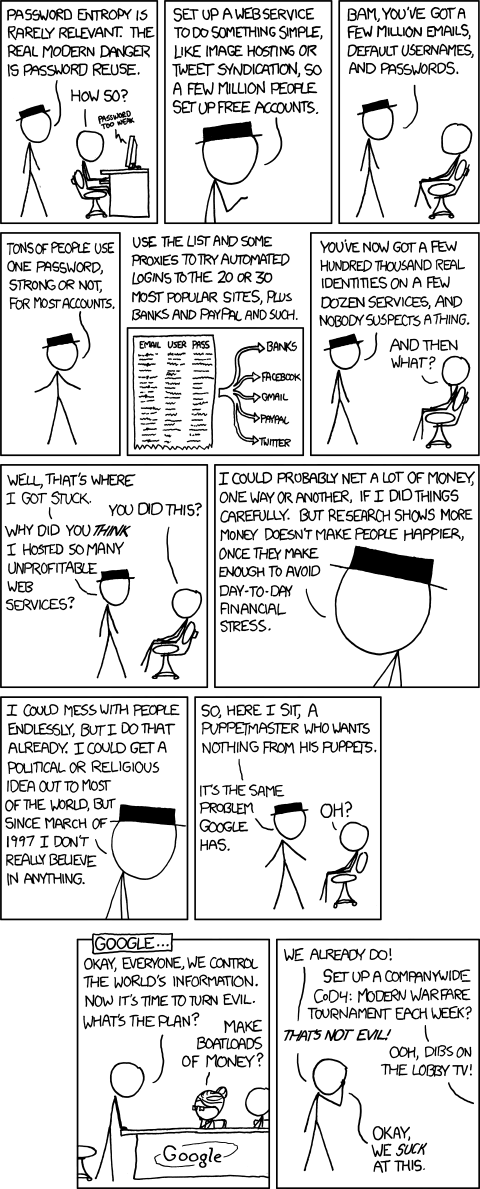 [Alt: It'll be hilarious the first few times this happens.]


If you're new around here, you may not yet be acquainted with a little concept we like to talk about, which, while it goes by various names, is generally called "Randall Munroe's Illustrated Picto-Blog." It's not a blog that exists; rather, it's a blog that we speak about theoretically. We
want
it to exist. Ideally, it would replace xkcd as Randall Munroe's major creative output to the world (using the word "creative" in only its most literal sense). It would sometimes be funny, sometimes not. The goal would not be to be funny; the goal would be to be interesting. If an idea or story were interesting as well as funny, so much the better. If an idea benefited from a small drawing, or even a large one, that's fine too. But if it was not funny and entirely text based - which is to say, if it were like the worst of the xkcds now - that would also be ok. Most important, it would not have a regular update schedule, allowing Mr. Munroe to post
only
when hehttp://www.blogger.com/home felt an idea was worth sharing.
In any case, I've been over this all
many times before
. And what I've said before applies very much to this strip as well. It's an interesting idea (I don't think it's as common or widespread as some people have suggested, I'd be curious if they had some links) but the way Mr. Hat plays it is almost deliberately unfunny. Seriously, look again at the end of Mr. Hat's conversation: He's saying, "I had a cool idea but I have nothing I can do with it. So I don't know what to do."
It's true that that isn't really the punchline, but I guess I was still hoping for more from Mr. Hat. Even if he isn't as good as he used to be, "just sighing and giving up" hardly seems to be in character (though he's still more in character than Mr. Beret).
As to the actual punchline ("google is also not evil") I first found it extremely similar to
this classic Onion article
, then thought all about the various evil things Google has already done (think: China, Verizon Net Neutrality deal, that crazy flying colored balls homepage last week). I know that a few years ago Google was the darling of the computer nerd world, but can't we agree that they've made some decisions - inevitable, some could say, given their rate of growth - that show they aren't the perfect angels we once thought? To portray them as they are portrayed in the final two panels of this comic strikes me as hugely naive.
Oh, and count me in the camp that says that the "March 1997" reference is either trolling, noodle-incidenting, or both.