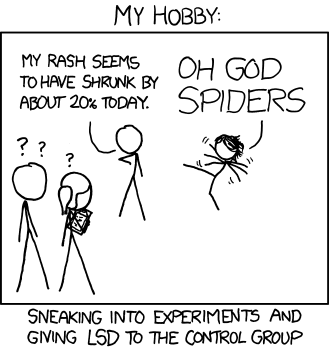 [Alt: Which, at one point, led to a study showing that LSD produces no more hallucinations than a placebo.]

I find this comic
incredibly
boring. The joke is that the results would be wrong! That sounds like a joke that is only funny if you spend most of your life in a lab.
I particularly like the "treatment group" fellow and how he is just straight up telling the scientists what his results are. How conveniently he stands there, providing a contrast to the LSD girl!
And the question marks above the scientists' heads. Look how confused they are! They are 3 question marks worth of confused. That is so confused!
I think that drugs aren't as funny as some people think they are. Sure, sometimes, they are funny. But there is a sort of middle or high school mindset, where you've learned what drugs are, and seen them on TV or in movies, but not in real life. At that point, drugs are the funniest dang things in existence. And even funnier are people who are
on
drugs ! Maybe
that guy
is on drugs! Do you think
she
is on drugs!? I bet she is! oh my god that is so funny. Here! look at me, I'm a guy on drugs! "durrrr.rrrrrrr....rrhuh huh, heh, Ahm on Druuuuhhhgs."
laughter, laughter.
Anyway, this comic seems to stem from that same mindset - throw drugs into any situation, and bam! it is immediately funny. I think part of the reason I say this is the completely stereotypical behavior of the drugged person: "oh god spiders!" Has he
ever
been in a room with someone on LSD?
wait i forgot, the joke is that medical science is not a real science, all those med students can write you angry letters because they aren't spending time on getting a
real
education.