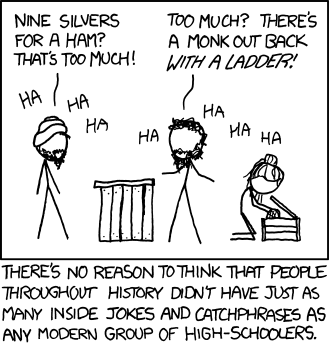 [Alt: I've looked through a few annotated versions of classic books, and it's shocking how much of what's in there is basically pop-culture references totally lost on us now.]
I think this comic has been pretty well destroyed by all you folks in the comments for the previous thread, so I think I can just summarize all the reasons this is terrible -
1) For one thing, the comic isn't exactly pointing out anything new. No, there is no reason to think that. But no one was claiming it, were they? I think if you had asked any of us about this a few days ago, we all would have been perfectly happy to agree that people at all times have had their jokes which make little sense to us now.
2) It's unclear what the inside joke is supposed to be. There's laughter surrounding all the characters, making it seem like each line is supposed to be funny. But the first line makes perfect, non-funny sense on its own: a man is upset about the price of a ham. It's the second one that is intentionally confusing, yet the "ha ha ha"s surround each line, almost like the canned laughter in a sitcom when a character says a boring line, but one is meant to laugh
in anticipation
of a joke to follow.
3) Regarding the alt-text, where Randall Munroe says he's recently
read
looked through some "classic" books recently. Are we supposed to be impressed by this? As many people point out, the Shakespeare that nearly everyone reads in high school has lots of annotations explaining the various in jokes (for example, a lot of shakespeare gets noticeably funnier when you learn that "Will" is often supposed to mean "dick"). It also seems like he may be referring to "The Annotated Alice," which is the version of Alice in Wonderland and Through the Looking Glass that has annotations by the late great Martin Gardner. It's mostly explanations of what the various jokes are in the book.
My point is,
none
of this is news to the majority of readers. This stunning anthropological discover that Randall has made is made even more comic by the fact that he so, so often insults those people who study history and literature. It's like on the one hand he tells people, "Psh! Literature studies? That's such a fake field. You don't do any real work in that field. you are so worthless. Try studying something important, like
science
" and then two days later he goes, "woah! if you read these old books more carefully, they're actually way more interesting! Why didn't anyone
tell me this??!
" And then the lit people smack their heads, again.