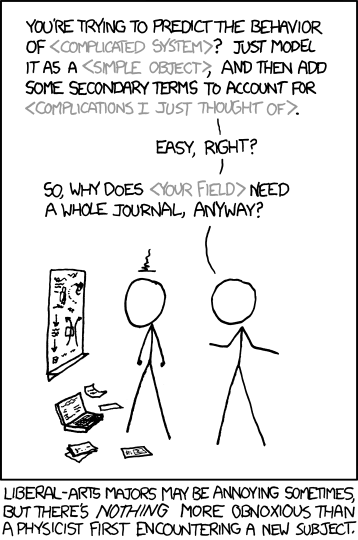 [Alt: If you need some help with the math, let me know, but that should be enough to get you started! Huh? No, I don't need to read your thesis, I can imagine roughly what it says.]

The thing I love most about this comic is: it's making fun pf physicists, but he just throws in one of his trademark "liberal arts majors suck in every way" jokes, completely for fun. Look at that caption: It could easily start with "There's nothing more obnoxious than..." which would be snappier and get to the point faster. But no! Just like his disclaimer that his comic is too advanced for Liberal Arts Majors to enjoy, or his many comics about how if you are a liberal arts major, you aren't really learning anything or working very hard, and no one respects you.
Besides being incredibly smug and douchey, what's funny about this pattern is that
the liberal arts includes a lot of math stuff.
Here, go to the
Wikipedia page
on it. There are seven "liberal arts," which are as follows:
1. grammar
2. rhetoric
3. logic
4. arithmetic
5. astronomy
6. music
7. geometry
Now I can see that "rhetoric" is probably not something Randall thinks much of or has much respect for. OK. But I don't think the world is overrun with a scourge of aimless, destructive rhetorticians. Grammar is the same way. Music, #6, is generally not considered a science in any way but if you've studied music theory at all, you know that not only does it tend to include a lot of mathematical, logical thinking, but that a lot of people who study it seriously are also really into math on its own.
As to the other four, geometry and arithmetic are both clearly math, astronomy is a hard science, and logic is often thought of mathematically. So I don't see why Randall keeps shitting on the "liberal arts" given that the majority of them are hard sciences. Perhaps he means to say "Humanities" or something like that, or "soft sciences," but the fact is, he
doesn't
say that. So he should either correct himself or shut up. He sounds like a huge prick every time he goes down this path.
Now, it's true that I'm ignoring the majority of this comic, including its message, that physicists don't understand why things are complicated. Quite frankly, it's because I don't care. I'll let the rest of you folks tear that part to shreds; it simply doesn't speak to me.
As you can see, I've created a tag for "liberal arts suck don't they" for this type of comic, if you'd like to help me point out the old posts which should have this tag, that would be lovely.
---------------------
In other news,
Apokalips
was never a great comic, but it is decent enough that I make a point to check it regularly. I think it's admirable that the author has
recently chosen to slow down his publishing schedule
and not hold himself to firm deadlines, rather than have the overall quality of the work go down. I
with
wish every author of a failing comic would think this way.
And
this
made me laugh.