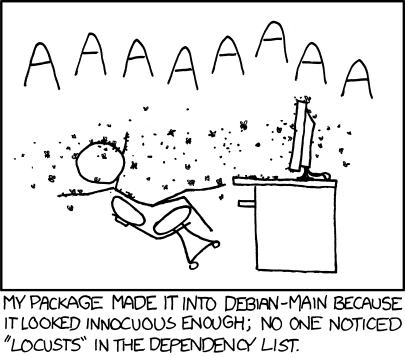 [Alt: dpkg: error processing package (--purge):subprocess pre-removal script returned error exit 163: OH_GOD_THEYRE_INSIDE_MY_CLOTHES]

The joke is that the man has tricked other people into being attacked by insects. It doesn't really make sense, in that as far as I know, no amount of computer programming can make actual insects fly out of your computer, but what do I know? i'm probably one of them goddamn liberal artists. Anyway, since this comic is not in any way possible, I guess it's just supposed to be completely
wacky
and also make fans of debian pee themselves in joy.
Also, any random-insect enthusiasts will pee themselves in joy, just like they did with
this comic
!
Of course, enthusiasts of computers-spewing-things are probably disappointed if they compare this to
Abstruse Goose #81
.
this comic brings a totally new meaning to "debugging," no? Ha!
======
I see the search bar is back up on xkcd.com, but it's using Google, not OhNoRobot. I wonder what happened? OhNoRobot wasn't working well for him (though it works for everyone else...). New search seems to be better than the old one, so that's nice.
======
Do you remember that
everything is going to change
with my big announcement at comic 800?
it is.
I guess I'll have to connect my announcement to the comic, somehow. That might be tricky.