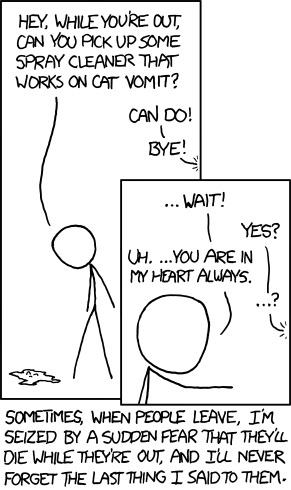 [Alt: What'll I say -- "I was staring at some cat vomit when I got the news?"]
I think today's comic can serve as a useful template for a lesson called "Things not to do in comics." There are few mistakes he does
not
make here. So! Inspired by today's comic, I give you the XKCD Sucks List Of Things You Can Do To Make A Lousy Comic:
#1a: Choose a depressing topic! In this case, it's the loss of a loved one! What could be funnier?
#1b: If you are feeling particularly bitter, schedule your comic about the sudden loss of a loved one to run on September 11th. This is key.
#2. Put the funniest part of your comic at the very beginning, so people know from the top that it's going to be a wild ride! In this case, it's "cat vomit" and we're laughing already by the end of sentence one!
#3. Put one of the two main characters off screen. That way you don't have to draw him! Will people think it is weird? WHO CARES?
#4. Make your comic an old observation about one of life's tragedies, one which has already been made fun of in identical ways on the Simpsons, Arrested Development, and others!
#5. Have the "serious line" in your comic - in this case, the one he wants to use as his "meaningful" last words - be awkward and stilted. This is key.
There you have it! Just follow these five easy steps and two relatively simple substeps and you too will be comicking with the best of them!