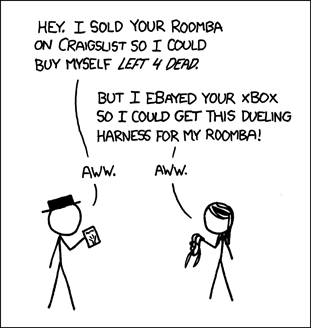 So first off y'all have to know that this comic is a parody of the O. Henry story
Gift of the Magi
. So read the summary on Wikipedia if you don't know it yet.
If you do read the wiki article, note that the vast majority of the article is
adaptations
. They've got about 15 there. It's not exactly new, what we see here. And it's not even close to the funniest adaptation - for my money, that is Steve Martin. I'll quote directly -
One of the short-short stories in Steve Martin's Cruel Shoes, "The Gift of the Magi Indian Giver," involved the husband selling his shinbones to buy his wife "cuticle frames," while she sold her cuticles to buy him "shinbone polish." The ending implied that the couple enjoyed a bit of light BDSM.
Shinbone polish makes me laugh very hard. Much more than "Roomba dueling harness." Maybe if it had been the first instance of such dueling, but it's
not
. And of course, for utterly absurd Roomba humor,
you
can't
beat
Achewood
.