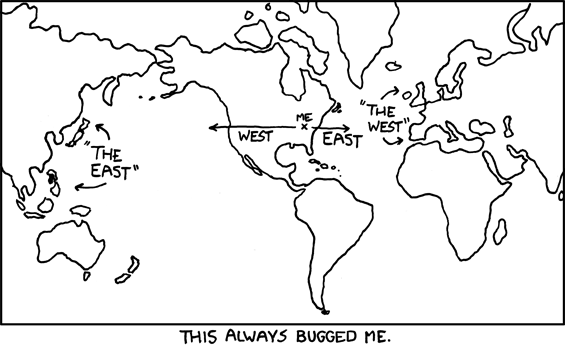 Oh man does this comic suck. Really, Randall? You really think this is funny? This is like one of those stupid old "WHY DO WE PARK ON DRIVEWAYS AND DRIVE ON PARKWAYS, EH? EH???" questions. Especially given that Randall is into like science history and stuff you'd think he'd know the answer is that the WEST is the WESTERN HEMISPHERE (and parts of western europe that are culturally and historically tied to it) and the EAST is the EASTERN HEMISPHERE and if you are towards the west of the western hemisphere, then yes, you may actually find that the westernmost part of the eastern hemisphere is closer to you if you went west than east. If that's actually something that bugs him, it's a little sad.
So clearly he knows the reason and he just wants to make a dumb little observational point, and yeah, observational humor is about people recognizing the truth in the observation but how many people are going to really say "ha ha, yeah, that bugged me too!, why the hell did they name it that way?"
One person who didn't laugh is frequent commenter Amanda, who
e-mailed me
shortly after this comic went up to say how much it bothered her. To quote -

What bothers me is that the Randall fans are like WOW I have once thought this very same thought and am remembering it now and oh it is just so funny to remember how stupid this concept is and since I identify with this comic I shall call it funny and Randall remains God so PLEASE GET OUT OF MY HEAD RANDALL. Okay. Perhaps that brief moment in which you learned that the "east" and "west" that were relative to your location in the Americas ARE NOT THE SAME as the ones that apply to "The East" and "The West," you may have chuckled briefly and thought, wow how silly. But I assumed everyone else, like me, eventually did get over it because we all realized that the coiners of these two names did not know of the Americas. I suck at geography and history and whatever, and I'm a stickler for accurate names but I got over it. And the observation itself is not that funny. At least, for me, not comic-writing funny. TELL ME RANDALL WHERE IS THE HUMOR.
What all this reminds me of is, unsurprisingly, a Dinosaur comic. Click it for more readability.
click it for a version you can actually read
this corrected version of my original was made by cow_2001
thanks, cow_2001!

And then lastly, more of a tangent than anything else, since a mildly better joke would ask why the Midwest is in the eastern half of the country (it was named when all the area to the west of it was not lived in mostly!), I give you
The Onion
.