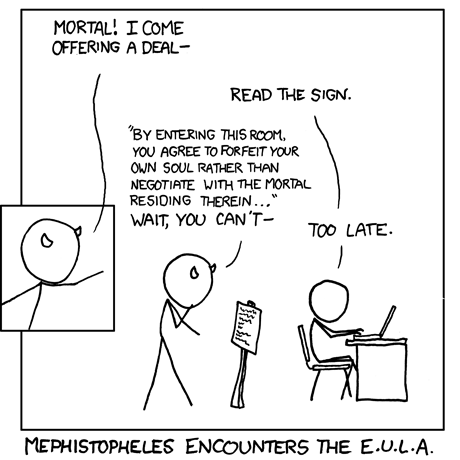 Ah, the infamous End User License Agreement. A rich, totally untapped source of humor.
It feels these days like I need to do two parts to every post - all the reasons this joke is so old and a list of places it's been done first and better, and then a more theoretical "ok well what if this were the first time, would it still suck?" kind of thing. So-
Part one:
Ughhhhhhh another EULA joke? Good god. Someone please tell me how this is any possible way better than
this bash.org quote
(note that it also is an EULA which, by the time you read it, you have already agreed to according to the terms of the agreement). And no, snotty old german folk legend references do
not
make the joke better, they in fact make it worse. In my opinion. For further EULA fun on bash.org, see
right here
(this one is not as similar to the comic, or as funny, as the first one).
And of course, the realiable old xkcd forums reminds us of an
incredibly similar line
from the wonderful book
Good Omens
, which is disturbing because not only is it about the absurd nature of legaleese filled contracts
it's about that in the context of demons making deals with people for their souls
which is not exactly the most common topic in the world. And I'll be damned if Randall Munroe hasn't read Good Omens. If he hasn't, that's an even worse problem.
Part two:
Ignoring all the better versions of this joke, it's not a bad comic. For some reason the signpost right by this guys desk amuses me, as does the specificity of the agreement. I mean, how often can the dude be in a situation where that agreement is needed? The Devil being just a stick figure with tiny horns strikes me as a little artistically lazy, though. I mean, at least a tail, if not a pitchfork. Some color or fire or stuff could have been fun.
So I guess that were this the first EULA joke I had ever seen, it would be a tiny notch above average. As is, it's several notches below. Like with the
last comic
, Randall has to keep in mind that if he's going to tread well worn comedic ground, he's got to do it in a new way. Otherwise it's just tired and old, like the last two comics.