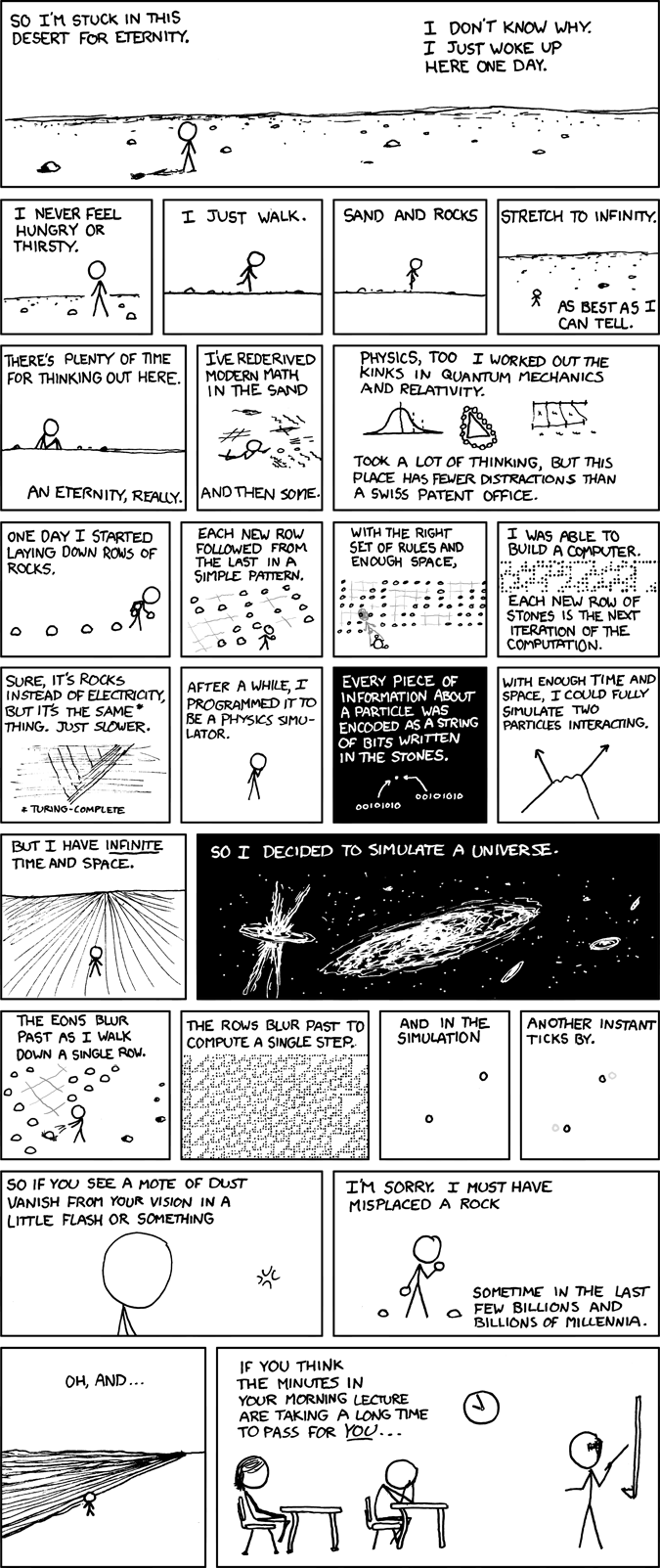 THE SCENE: A COFFEE SHOP IN BOSTON. RANDALL, a webcomic artist trying to conitnue to ride his washed up talent to fame and fortune, is with two friends, BILL and JIM.
RANDALL: Guys! Listen! I have an idea. What would happen if you were on a desert island and you-
JIM: Ok I would bring um Lord of the Rings, um...a popcorn popper...um...
RANDALL: NO I'm not doing that. You're on a desert island and-
BILL: A popcorn popper? Seriously? Why the fuck would you bring that? Are you bringing popcorn kernels also?
RANDALL: GUYS shut up. You're on an island and all you have is rocks. Rocks and sand. And you-
BILL: Oh I remember this one.
You have to guess your eye color
. It's green!
RANDALL: NO IT'S NOT THAT. Shut up guys. You have rocks and sand. And nothing else.
JIM: I would probably just drown myself.
RANDALL. No, there's no ocean. OK it's not really an island, it's just a massive desert.
JIM: How massive?
RANDALL: Super massive. Like actually infinite.
BILL: And nothing but rocks and sand.
RANDALL: That's it, yeah. So would you-
JIM: Yeah I'd say you'd die pretty fast.
RANDALL: NO YOU CAN'T DIE. You don't have to eat, you don't have to drink, you just have you, the rocks, and the sand.
JIM: How did you get there?
RANDALL: You - you don't remember.
BILL: And how long do stay?
RANDALL: Forever. And you don't die.
BILL: Can you kill yourself?
RANDALL: You don't want to kill yourself.
BILL: Yes I do.
RANDALL: NO.
JIM: So ok you are super bored forever ha ha that sucks the end.
RANDALL: NO. You have rocks. So what do you do?
BILL: Don't tell me you do math. That would make it even more boring.
RANDALL: You do math. But you could
do all the math ever.
JIM: No, you don't. Because you don't know it all.
RANDALL: YOU FIGURE IT OUT.
JIM: YOU AREN'T THAT SMART
RANDALL: YOU HAVE INFINITE TIME
JIM: WHAT, DOES YOUR BRAIN GET SMARTER NO MATTER WHAT, JUST FROM SITTING AROUND IN THE SAND?
RANDALL: Shut up. You do all the math ever. And then you do all the physics ever.
BILL: Oh ok, well that
does
make it sound fun...
RANDALL: Shut up. And then you make a computer.
JIM: Out of rocks.
RANDALL: YES it's all just algorithms and math and memory and stuff. Which you could all do with rocks and squares and stuff.
JIM: Uh ok maybe I guess. Why are we doing this again?
RANDALL: Because eventually - eventually you could simulate particles!
BILL: Yeah, nothin' more exciting than
particles!
RANDALL: Shut up. You could do it! You could.
JIM: Is your brain infinitely large? I mean there's a lot to remember about all that stuff.
RANDALL: YOU COULD WRITE IT ALL DOWN IN ROCKS.
BILL: WHY ARE YOU DOING THIS???
RANDALL: Look. The point is you could do it, right? I think you could.
JIM: I dunno.
RANDALL: I think you could.
Silence.

BILL: Whatever.
============
Today's comic was, I will admit, thought provoking. It was not, however, funny. It's one of those comics that belongs not on a webcomic site but on "Randall's Random Ideas Illustrated: The Blog." The only part that's a joke is the last panel, which I think sort of brings down the whole thing to a "ha ha, that whole thing was for a dumb joke about school being boring" level. Sort of retroactively diminishes the rest of the comic.