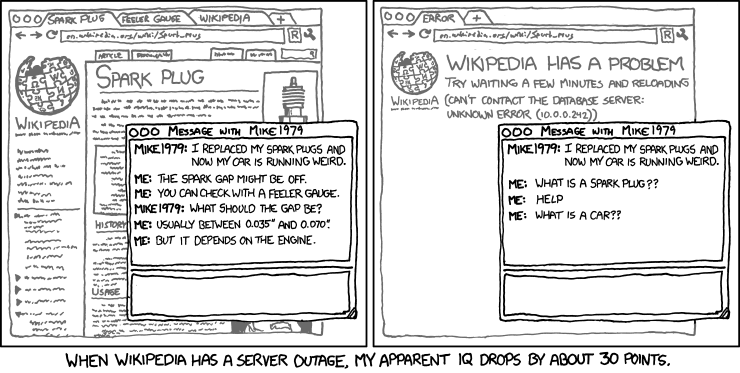 [Comic title: Extended Mind; alt text: Wikipedia trivia: if you take any article, click on the first link in the article text not in parentheses or italics, and then repeat, you will eventually end up at "Philosophy".]
Little to say about this one: Randy once again admits that he relies on Wikipedia for all of his ideas. Woo. Also, I think someone posted this the comment threads (but maybe it was on our IRC channel, which is #xkcd-sucks on foonetic), but apparently this "philosophy" thing was on Reddit some weeks back. Which is also not surprising.
But that's all this is. 'Without Wikipedia I am a lot dumber.' GOOMH-bait and a confession that without Wikipedia, Randy is incapable of having any thoughts. It controls his life. It's a small wonder that his fanboys are so obsessive about vandalizing Wikipedia to praise the great one. Cuddlefish have a parasitic relationship to Wikipedia, and they hope that by making their host body acknowledge them (and Lord Cuddlefish Randy) they will be able to achieve greatness within the limited context of their sad little world.
Apologies for forgetting to continue the Pokemon theme in the last post. I know you were looking forward to more terrible half-assed lines.