[Hated carrion fowl "Ravenzomg" sent me this review, apparently. -Ed.]
Hello everyone, this is
Ravenzomg
of Ravenzomg fame here with a very special review for 896!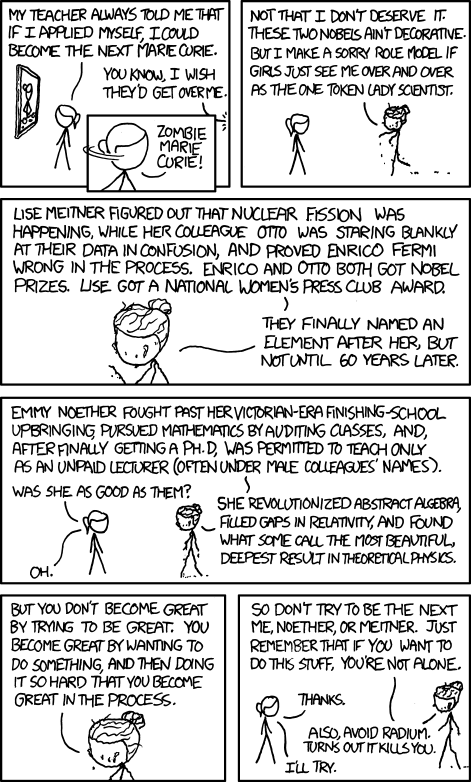 Title: Marie Curie. Tooltip: although not permanently
Now then, first thing's first: it's a wall of text filled with random "goomh Randall!" references to famous female scientists/mathematicians. The ungenerous will call it "white-knighting". But no -- this is just pandering. He's not proclaiming the world we live in as a product of both women and men in science, no no.... he's dropping names, he's dropping them hard, and people will fall for it. "Goomh, Randall, my heroine in Science is ____" etcetera etcetera!
Now, to burn some negativity, a positive point: The tooltip is an independent "bonus" joke, that does not "make" the comic, but simply adds a little flourish. It's trite and expected, but it is half-entertaining at the least. So points!
Now, once he brought up "Zombie Marie Curie", I just kept thinking,
When is he going to point out that her work killed her. When is it coming. When is it-- oh.
Positive point number 2: The "punchline" is at the end. Tarnished by the classic case of Post-Punchline Dialogue "I'll try", but that is succinct enough to be forgiven.
Now then, the negatives [again]. It seems like Randall wanted to
drop a bunch of names
tell us how awesome women are in science. So he made this huge blogtastic post, and scribbled on the premise of "Zombie Madame Curie" because he wanted to make it a joke.
We've been here before -- you don't HAVE to add a joke to everything, Randall! At the very least, I found some of these [predictable] anecdotes to be interesting. But as it stands, it's like you crashed a half-interesting series of stories into a half-formed joke that, really, everyone has thought of once Madame Curie is brought up.
Just... goddamn. The problem here is the final product. It's like a meal gone bad, where the contents sounded delicious but you just did the measurements all wrong, left it in the oven too long, and forgot to wash your plates so now it's all just gross, burnt, and awful. But there was some potential hidden in there!
Anyways, the moral of this is that he needs an editor more than ever. Luckily, the fine people at Microsoft are one step ahead of us, so I turn the floor over to Clippy.
Everyone give a round of applause for our special guest!