[Your pirate "The Pirate King" has
(placeholder pirate joke, fill this in)
this guest review to my very inbox. -Ed.]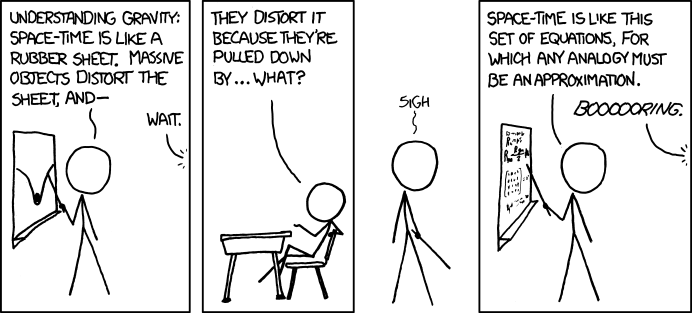 Oh gee, another boring-as-fuck comic. How great.
Right off the bat the dialogue in the first panel is terrible. "Understanding Gravity: Space time is like a massive rubber sheet". Is part of this a caption, and the other part is what the professor is saying? In which case why does it look like run together shit? Or is the professor actually saying the part with the colon? Because that would just be weird. At first I thought Randall was referencing a book or essay called "Understanding Gravity: Space Time". Because that would be like him, to start dropping references in the first panel.
So he's got a reasonable facsimile of the diagram commonly used to represent relativity, that's all well and good and sufficient art-wise.
And then in the next panel, generic stick #2 (who appears to be the only student in this classroom) comes up with an objection based on the way the metaphor and diagram are presented. But the wording of his metaphor makes me wonder whether he understands the way gravity works at all. He asks "because they're pulled down by what?", implying he doesn't understand that gravity works in three dimensions (let alone four!). So he is a generic straw-man for the scientifically unenlightened. Man, xkcd must be set on a farm, else how would it have so many straw men?
So I guess the "joke" is that inaccurate metaphors are often necessary to make higher-level concepts interesting and manageable, and that it doesn't matter that they're inaccurate so long as you grasp the basic concept. Well that's a fine premise, but there is absolutely nothing funny about it. Also, as Gamer_2k4 sagely pointed out, it is directly contradicting the message in comic 803.
The alt text is there so he can drop Richard Feynman's name for the freaking bajillionth time, and suck up to him a little bit more.
And undoubtedly, if you are a physics major, you will have to endure this comic being printed out and pasted on one of your professor's walls, or if you're really unlucky, shown to the whole class via projector. Bravo.
[I can't help but feel like Randy is actually siding with the smug student in this one, at least a little bit. -Ed.]