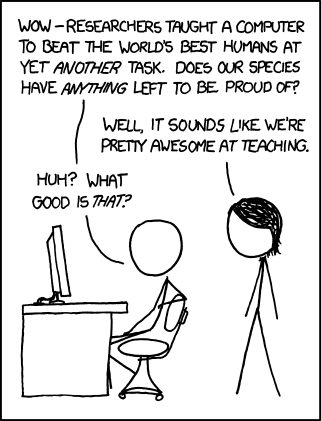 [Comic title: Progeny; alt text: I tell my children 'it's not whether you win or lose, it's how you play the game.' I'm trying to take the edge off their competitive drive to ensure that I can always beat them.]
Randy has been doing more research on lactation, and it turns out that only pregnant females lactate under normal circumstances. This, in turn, has caused him to begin fantasizing about having children--not just because he wants his daughters to turn out to be sexy porn stars, but because getting Megan pregnant is the easiest way to have access to her delicious, delicious milk.
We have mentioned before that Randy lives a rich fantasy life, so this fantasy quickly went from not just having a child (his sexy porn star daughter is now a regular staple of his masturbation fantasies), but to having children. Can you imagine how glorious it would be to have Megan perpetually lactating? She could pop out dozens of kids and all that delicious milk would be Randy's, forever and ever. Yeah.
Yeeeeah.
Of course, even Randy can achieve orgasm sometimes, and when that happens his thoughts turn to how he can abuse his fantasy children. This time around he's decided to take the straightforward route, and ensure that he can consistently beat them. And Megan's there, milk flowing from her exposed nipples, saying, "You can teach them whatever you want, Randy, because you're awesome and I love you."