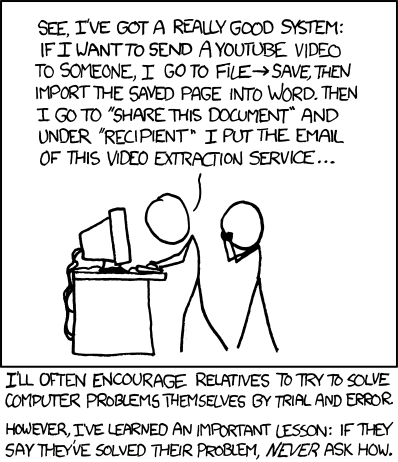 Ha ha, people can be so
stupid
when it comes to their computers! It just makes a former physicist like you or me sick, how stupid some people can be. Figuring out solutions to their problems that aren't as efficient as possible? Ludicrous! [yes, i originally wrote "there" instead of "their" in a sentence mocking stupidity. enjoy, people.]
On the one hand, this comic is less annoying than the oft-heard concept online that people need to stop bugging us nerds for to help solve their problems. On the other hand, it's saying that even if other people solve their own problems, some people/comics will still make fun of them for it. So, non-xkcd readers are screwed either way. Ask for help, and we'll mock you for needing help. Solve the problem on your own, and we'll mock you for doing it wrong. Solve it right, and you'll just break even: "whatver, I could have done that."
I can't tell, though, if it's the same attitude espoused in this comic or the opposite one.
It is, i know, the same mindset that pisses me off about
this thinkgeek
shirt. Strangely, that's the second time
in recent memory
that I've said something to the effect of, "Yes, this xkcd is annoying, but not
nearly
as annoying as this thinkgeek shirt."
<thinkgeek rant>

I like thinkgeek, I like them a lot. They sell many many wonderful things. But sometimes - usually in their product descriptions, occasionally in their products, as in the examples above, they veer too hard into the "fake nerd" category, the marketing category that gives us gems like "let's make a pie tin in the shape of pi! because, you know, NERDS!" or maybe "if we take this unsellable product and either put an image from Portal on it or infuse it with the smell of bacon, everyone will want it! because, you know, nerds!" It pisses me off. It's not really their fault; they are trying to sell things and if they can get their customers to feel like not just thinkgeek customers but a whole seperate social group then I am sure that helps their business. So I guess the people I am really disappointed in are the fake nerds.

Has anyone run accross anyone else writing about this sort of thing, what I've taken to calling faux-nerdery? Surely there has been something.


[for what it's worth, a long-term xkcd trend has been to stop appealing to actual nerds and just appeal to faux-nerds. I actually think loving xkcd may be a central tenet of faux-nerd culture]


</thinkgeek rant>

lastly, is there a reason the alt-text says "six partitions, labelled c: through j:" ? Is that not 8 drives? I know my computer has C, D, E, F, G, H, I, and J. Or is the implication that he misnamed them?


So this turned into far less of a post on xkcd and more of a general one. Oh well, if that is the way my muse inspires me.
=========
Guys! It's been almost 2 months since the xkcd blog updated! I wonder what's been happening.
Has Daisy Owl just given up, or am I missing something? There hasn't been an update in weeks, and the author finally took down that "guys I am back so I'll be making comics again" notice. Does anyone know what the deal is?
Lastly, i cannot wait for the Overcompensating book! That is all. I just want you all to know I am excited.