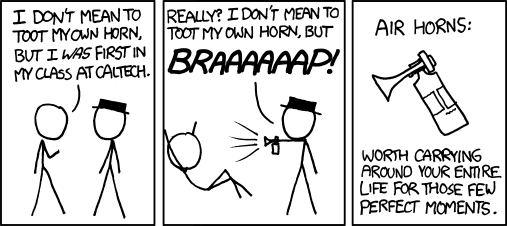 the "BRAAAAP" sound should not be coming from Mr. Hat's head, it should be coming from the airhorn.
no one says "I don't mean to toot my own horn" for real anymore, it's like "
a whale of a good time
" in that regard. Yes, it's annoying, but luckily: it doesn't happen
pretend that the last panel is not in this comic. It is so much better that way! The last panel tells you nothing - yes, it's an air horn, but we knew that. Yes, he was happy to get to use it for that moment. But we knew that. As it is, it makes the comic look like some kind of weird advertisement for airhorns, and I just thing; What? Why? Why not just show us a funny scene? Why force it into a random context? In this way, it's a lot like
comic 456
.
I complain about the lack of context a lot in xkcd, but in this case the mere presence of Mr. Hat provides enough. We know what he's like just by seeing him - he's the only character this is true for (because he is the only character). That's enough, in this case.
the sudden shift to ad tagline strikes me as something thought of to make this comic more of a joke in the regular sense, almost like a sketch comedy ad. Like, I'm not confident with the joke I've written, I'm going to tag on an unrelated one just in case.
vuvuzela jokes were funny for 15 seconds, two weeks ago.