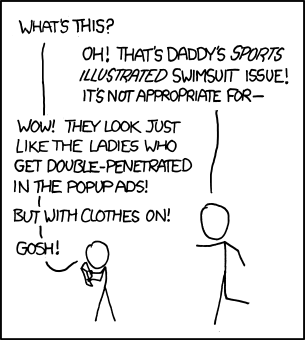 I have learned many things in my life, and one rule that has served me well through thick and thin: No one ever wants to hear a child use the phrase "double-penetrated." Ever.
As far as the joke goes, "kids today are exposed to so much crazy shit that their parents don't know about," it's basically the same as when
SMBC did it two years ago
(at some point someone should catalog all the times xkcd has had the same joke as SMBC and put it in one place.)
That said, the joke is executed about as well as can be. Some people were criticizing the phrasing etc, but I actually think - given the gross terribleness of a kid talking about double penetration - the writing is not bad on this one. The word "gosh!" at the end is important, it serves to portray the child as a pinnacle of innocence, and contrast with the clearly not innocent sentence he's just said. The only text that doesn't feel right is the father's; if you are embarrassed by something or at least want to keep it secret, I think saying "no don't look at that!" or "give that back!" is more likely than "I am going to say exactly what this thing is, for the benefit of outside readers looking in on my life!" But I guess that's what happens when you have to explain through text what you have drawn.
------------------------------
Kirk will be writing the next post (unless things go horribly wrong) which is good because I need a day to catch up with all the commenting and e-mailing and such that have been happening around these parts.