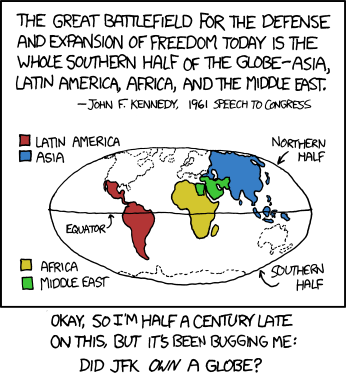 Welcome to astute-political-commentary-on-a-50-year-delay-comix! Today: A mistake President Kennedy - you know, the guy your parents remember - made back in 1961! A mistake he made
before the current president was even born.
A commentator writes that JFK was not, in fact, making a mistake because the notion of the
"Global South"
is a meaningful and understood concept, and it's not strictly a geographic description in that sense. But I'm going to side with Randall on this one: JFK didn't say "the global south," he said "the whole southern half of the globe," which
strongly
implies the literal southern hemisphere. And try as I might to defend JFK, Asia, the Mideast, and much of Africa are pretty clearly in the Northern Hemisphere. So I'm comfortable saying JFK made a mistake. At the least, he could have been clearer.
But it's just that: A mistake. Using too literal a phrase, or saying "southern" instead of "lower" (in the sense of lower income). Maybe he meant to say "the southern half of the globe, and asia..." etc. Or maybe he was just writing without looking at a map, and he thought the equator was farther north than it is. Whatever. He listed the regions he was talking about, so it's not like this is unclear.
The question is, why on earth make a comic about this
now?
This speech is nearly 50 years old. This line is not famous, and as far as I can tell, this speech is not famous. It's not his Ich Bin Ein Berliner speech, which contains the far more memorable and far more amusing error. It's not his inaugural address ("ask not what your country can do for you...") or anything relating to Cuba. He doesn't say we'll be on the moon within the decade. In fact, I fail to see what is really historically significant about this speech besides the fact that he made a small error. Which means, in short, that this comic is nitpicking a five decade old speech.
So then you wonder: Why this speech? It's not like presidential mistakes are all that rare. Sometimes they're
absurdly common
. Sure, if this speech had been given yesterday, I could see it being a sort of current event thing. It would make the comic outdated quickly (like
this one
) but it would sure make more sense than it does now. Hell, at least the last comic that said
"people refer to world geography in funny ways"
is going to stay relevant for a little while.
In conclusion: I do not have a clue what would be going through someone's mind to make them draw a comic like this.
Also: And this is true for many many situations, not just comics:
acknowledging that your creation has a terrible flaw -
in this case, being 50 years late -
does not make that flaw acceptable.