[Your friend and mine Carl "Ugly" Wheeler sent in this guest review. -Ed.]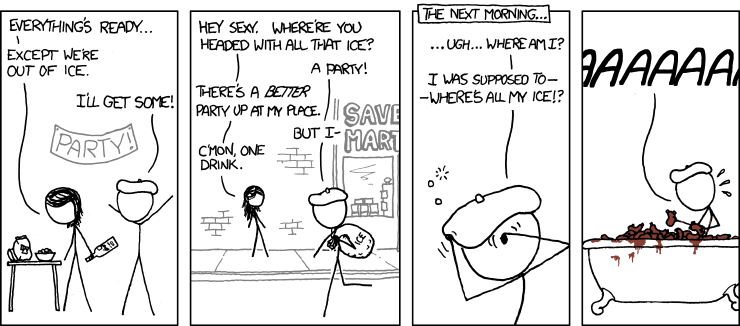 Hello, all, Trusty Carl Wheeler here, back for my one day a year where the prison i am in lets me use the Internet. Today's comic is utterly atrocious, as always, and you knew that it would be bad from the first panel, which features Mr. Beret.
Mr. Beret is a man who shows up in most of the worst comics. His character is basically that he is stupid and misunderstands things, in an "I was raised by wolves and only just this morning came back into regular society" sort of way. So, expectations are low, to say the least.
Here's what I thought happened the first time I read this comic: Mr. Beret buys some ice, is invited to a sketchy party, and has his liver removed and he wakes up in the bathtub. This is a common urban legend (see
here
for the usual Snopes treatment) and I was most mystified on two fronts: Why did this comic simply illustrate a well known story, and why did Randall think this would be funny?
You see, I was under the mistaken impression that the bath tub in panel 4 is filled with ice that is covered in blood. Now I know how wrong I was: The joke is that rather than having his kidney stolen and awaking in a tub of ice, he has had his ice stolen and is now awake in a tub of kidneys! A ho ho ho, great laughs are had by all. But the point is, the drawings are so poor that it's not calear what is going on.
In some ways, I wish he had just illustrated the original story; that way, he wouldn't be responsible for how dumb the joke is. The joke is really just taking two words from the original ending and switching them. I tried this with some other Snopes articles to generate a few new comic ideas:
---In the last panel, it turns out cancer is a
great way to cure lemons!
---the punchline is, your family sends you a
postcard that is disguised as a virus!
---it was actually
american POWs who betrayed Jane Fonda!
---and of course, Lee Harvey Oswald was killed by John F. Kennedy is disguise (this one is actually pretty obviously true if you really think about it)
Anyway, the point is: None of these really make any sense. There's not much humor to be found in just changing things around to make less sense. If we knew why the girl wanted to steal ice, but had a great surplus of kidneys, then we could see how an understandable situation turned into the humorous reversal of a common tale. On it's own, I can't get past questions like: Where did the organs come from? Why can't they buy their own ice? Etc. It's just too far removed from anything understandable for me to laugh at.
I did laugh at one thing, but it was an "at you not with you" sort of situation - the fact that the party has a huge banner reading "PARTY!" on the wall. Not like the 99% of parties that have no such labeling, or the 1% that are specific (like, WELCOME BACK, CARL or HAPPY 90TH BIRTHDAY ROB or something like that). Nope, just PARTY! plain and simple. Why? Because Randall still does not know how to show us there is a party, and has to instead tell us with a huge fucking sign!
Love and kisses, till my internet time is taken away,
Carl
=======
Rob again. I also wanted to add that it is my 88th birthday, and I have lately noticed a shift in style of XKCD. It's hard to put my finger on it, but the persistent use of color and a few of the recent comics seem like he's trying something new. Failing, of course, but making a spirited attempt nonetheless!