[Noted hobo "Seth" has sent me this guest review, further proving that the quality of guest reviews is going way the fuck downhill. -Ed.]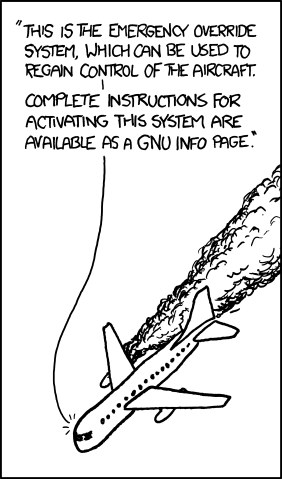 [Title: Manual Override; Alt Text: "I think you mean GNU Info Override"]
So! What to say about this comic here. Well, there's a lot one could say about it. There's a plane (with no snakes) that's crashing, and something about a GNU page. My question is, who cares. Who cares about this plane and this GNU page I don't even know what that is. I'll tell you what's more important than this stupid crap, and it's a little thing called Friendship. That's right boys and girls, today we're going to discover the importance of our fellow man.
The story I'm about to tell you is one of hope and perseverance and learning to trust others, even on the internet. I know this isn't your usual thing but just try to open your mind a bit and see where life takes you. I promise it will be worth your while.
There was once a man who was questioning his sexuality. He had, until recently, had a fetish for the mutilation of barn animals, and had developed a small internet community around that subject matter. Running that website became a way to escape the monotony of his minimum-wage job and disappointment at his various failures in life, and he made a great many friends who had bonded over their mutual object of obsession, an especially close bond when the object tends to be a fetish that is not accepted in mainstream society. He had laughed and loved and felt passion every day when he sat down at his computer, his pants around his ankles. These people, even though he had never seen them, became closer to him than any member of his family. Despite his inner shame at the objects of his lust, he grew as a person among the community of perverts he called home.
One night, as he had finished yet another round of fapping and discussing the day with his internet-friends, a magical genie appeared out of the pile of used-up tissues next to his desk. The genie said that he was born of the combined potential of the many many possible offspring he could have fathered over the years, and as the man was never going to be able to have a child in his current state, the genie offered a gift to the man. He would take away this strange fetish of his so the man could live normally and develop normal relationships and, hopefully one day, father a child. The man thought for a long time, and considered the genie's proposal heavily. One one hand, he wouldn't have to live in shame anymore. He could devote his time and skills to creating something worthwhile and die as if his life had meaning. On the other hand, not only would he be forfeiting all of his online relationships, he would no longer be able to find exposed horse intestines sexy, which they obviously were.
The man looked up and told the genie that while he appreciated the offer, he would have to reject it. The genie, incensed that he was doomed to live a life of crusty tissue hell, placed a curse on the man and all the people he knew. Instead of becoming a mutually caring community based around a disgusting fetish, he and all his friends would instead devote the rest of their foreseeable futures be forced to read and hate a terrible but harmless webcomic, and instead of breeding camaraderie and trust, the members of the community would tear themselves apart with misplaced hate and forced irony until the only thing that made the day tolerable was striking down their fellow members in the comments of each discussion about the comic. And the man would not only gain three times his current bodyweight in fat, so as to be permanently unlovable, he would be cursed with the added gift of seeing the stupidity of his fellow man with remarkable clearness until he becomes completely jaded, and he would be the one to run the site and be forced to watch his former friends become the objects of his disgust. The man cried out in despair but the genie was not merciful in the least. As he lay blubbering and sobbing on the floor, the genie bent down and with a wicked smile whispered in the man's ear:
"Abortion is murder, bitch."
And that's why we should work to overturn Roe v Wade guys.