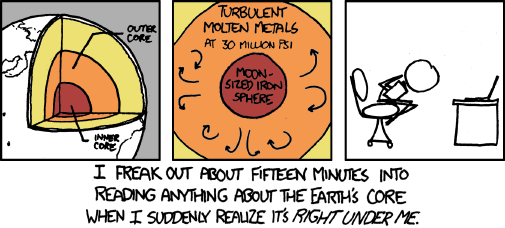 [Comic title: Core; alt text: "If you're a geologist or geophysicist and you don't introduce yourself by saying your name, then gesturing downward and saying "... and I study that", I don't know what you're doing with your life."]
Once again, Randy makes a spirited effort to make his Wikipedia obsessions appear interesting. "I'm not a shut-in who would rather read about the earth's core than interact with someone on a meaningful level," he is saying. "The earth's core is fucking scary, man! Have you read about it???" I mean, sure, it's probably meant as a joke (can't be too sure with Randy), but this is annoying even by Randy's standards of "LOOK AT ME I'M QUIRKY BECAUSE I AM INTO SCIENCE," for a number of reasons.
First, it's not a remotely new thought. I couldn't count the number of times I've read or seen some fiction or film with some variation on "we are tumbling through the universe at insanely fast speeds on a ball of rock that's orbiting a ball of fire and that's scary/intense." The only difference is Randy has managed to add "...and I'm super geeky for thinking that, ladies!" to the sentiment.
Second, it's just not remotely plausible. While the aforementioned "tumbling ball of rock" things kind of work as an existential crisis, this is just saying "lol science." Sure, there are plenty of people who are afraid of the various apocalypses that could happen to our planet at any moment. "The core of the earth" is not an apocalypse. It's just a part of our planet. It's not going to destroy us. People do not freak out about the bare existence of a thing which is entirely non-threatening.
Third, it's just not
funny.
It relies far too much on Randy's opinion that the planet is incredibly badass, and assumes we can just get on board with that assumption. If it's so badass obviously we can understand why he'd get freaked out about it. I guess I'm just not enough of a science enthusiast to get behind Randy's boring comic.
Finally, concerning the alt text, I'd like to quote one of our esteemed anonymous commenters from the last thread:
What are you pointing at, dude? Your feet (podiatrist)? The floor itself (architect)? The stuff the covering the floor (textile science/wood science/linoleum science)? Maybe we're outside. Are you pointing at the plants on the ground (botanist)? The soil under the plants (pedologist)? The sidewalk (highway engineer)?