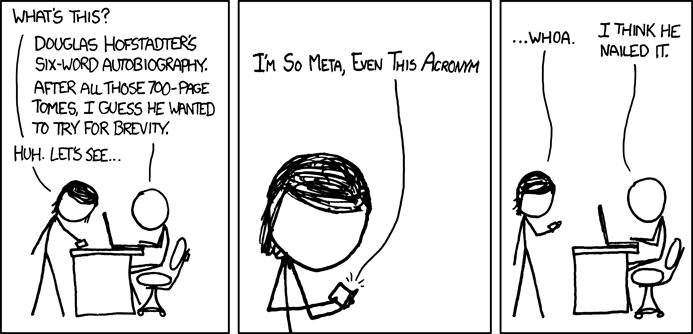 [Comic title: Hofstadter; alt text: "This is the reference implementation of the self-referential joke."]
I am obviously quaking in my boots at the imminent return and vengeance of Carl, who will return and find my works lacking and smite me and blah blah blah whatever fuck you.
Anyway, comic 917! This one quite obviously started with Randy coming up with the acrostonym* in question. It don't think it reads the way it's intended to, but I'm not here to take issue with this.
I'm here to take issue with the GOOMH-bait that is so obvious that even one of the fanboys in the previous comment thread noted it:

"Well _I've_ never heard of that guy, because I'm not XKChttp://www.blogger.com/img/blank.gifD's target audience, therefore Randall is just being obscure again, GOOMH-baiting the nerds and trying to make them feel important about themselves for knowing who that is. Or he has a crush on one more obscure scientist, I can't decide. Maybe both. Also, porn star daughter Megan nipples har har!"
This was intended to invalidate the criticism by preemptively making it, of course, but the fact of the matter is, this is yet another comic where the entire humor relies on nerds recognizing the topic in question and then saying "lololol I know who that is too." It's exceptionally sad that the pandering is so bad that one of Randy's loyal fanboys is preemptively trying to head off criticism of it. (The irony here, of course, is that Douglas Hofstadter isn't really Randy's type of person--but props for finding someone who has an interest in self-reference, though! My guess is he went to the Wiki page on "self-reference" and noticed a name in the Examples section, and said "I guess he'll do.")
http://www.blogger.com/img/blank.gif
What really stands out here to me, though, is that this marks at least the third time he's put words in the mouth of a famous person. You have
Zombie Feynman
,
Zombie Marie Curie,
and now Douglas Hofstadter. (Let me know if I've forgotten any.) While this one lacks the preachiness of the first two, it does share the commonality that Randy is trying to improve his words by making it sound like they are not his.
It's not as bad as it's been before, but this isn't a coincidence. I think this is a sign that Randy is trying to write character humor. I've been noticing it lately: you have a strip featuring Black Hat guy where he
doesn't do anything Black Hat Guy-esque
--the only way we can tell he might be sarcastic is because he's Black Hat Guy. And then you have a strip with Beret Guy where he is pretty much
entirely a passive character
, and maybe if anyone could figure out what his personality is supposed to be it would be funnier?
Of course, this being XKCD, Randy actually pulling off character humor is about as likely as an Internet Atheist acknowledging that he's pretty much directly comparable in every way to your garden variety fundie, but these strips all give me this feeling, like he wishes that he were capable of writing in a rich, sustaining universe, where characters are dynamic and interesting and he isn't just writing author inserts and strawmen shouting into the void.