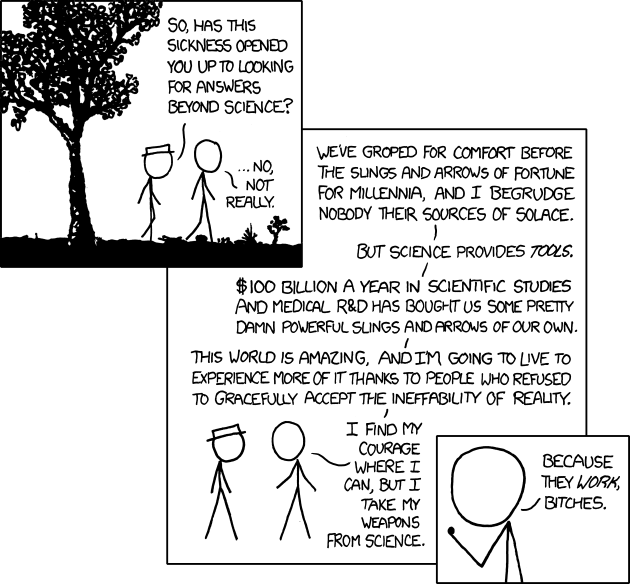 [ALT: At least, with p<0.05 confidence.]
Here we have Randy attempting to write a comic from the annals of his own life. Like all great writers, he is able to take the trials and tribulations
[EDIT: I mean slings and arrows LOLOLOL]
of day-to-day living and make them into something transcendent--a brilliant piece of art, a statement of philosophy, a nearly word-for-word rehash of an old punchline. These are the things that make Randy so great and that relegate us to writing the posts and comments of a hate blog.
You see, Randall has recently had a brush with illness, and he no doubt heard someone ask a very similar question--not
of him
, of course, because he wasn't actually sick LOL!!!!--and found it offensive. Why should he look for answers beyond science when science has done vaguely helpful things for medicine? Of course, at the time all he could think of was "shut up your god is stupid only Megan is worthy of my worship" but as time wore and as he ran out of other ideas for a comic, Randy knew that the game was on. It was time to prove to the world, as he does thrice weekly, that he was a brilliant writer, worthy to sit with greats such as R.L. Stine, Gertrude Warner, and Ann M. Martin.
"What do brilliant writers do?" he asked himself, as he seated himself at his shrine of empty soda cans and Cheetos wrappers. And he knew he had the answer: they find a way to awkwardly force an incredibly well-known Shakespeare quotation into their hamfisted monologues. Hamlet's famous "to be or not to be" speech would work sufficiently well. But it can't be taken directly. First, he needs to make it a mixed metaphor--"groping for comfort before the slings and arrows of fortune" sounds much worse than seeking protection from them, or some verb that actually has something to do with slings and arrows! Definitely when you're being shot at you "grope for comfort." He also had to get rid of the word "outrageous," but that's probably because he doesn't actually know that it's there.
And then, just when you thought his Shakespeare reference was forgotten, he brings it back with what must be the most brilliant inversion since that one time I said to someone "you're really dumb" and he replied "no, you." Science, you see, has given us slings and arrows of our own! Damn powerful ones!
DO YOU SEE WHAT HE JUST DID THERE? IS YOUR MIND TOTALLY FUCKING BLOWN? (what he did there is use the phrase "slings and arrows" again, but instead of them being weapons used by
outrageous
fortune against us, they are weapons used by us against fortune, I guess?)
But he's not done! He saves the very best for last. He concludes his "science rocks and people who do anything besides science are actively trying to kill me" monologue--truly the greatest monologue since that scene at the start of Romeo and Juliet where Gregory and Sampson are talking about cutting off the heads of the maids, or their maidenheads, take it in what sense thou wilt--by drawing a parallel to one of the oldest and most well-known of XKCDs, called simply
Science
. The only text of that one, apart from the graph from the COBE mission, is "Science. It works, bitches." It was made into a t-shirt! You may have seen some nerds wearing it around.
Except now instead of "science" working, bitches, it is the weapons he takes from science that work, bitches. I'm sure there is some deep parallel here, but my mind is too feeble in comparison to the greatness that is Randy to grasp them all. I can do naught but
grok in wonder
.