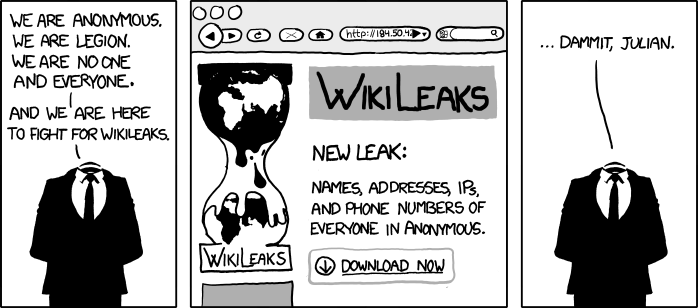 [ALT: STUDENTS ARE CALLING PRESIDENT JOHNSON EN MASSE TO PROTEST THE BOMBING AND IT'S JAMMED THE WHITE HOUSE SWITCHBOARD. COULD THEY COLLAPSE OUR CRITICAL PHONE SYSTEMS? HAS THE FIRST TELEPHONE WAR BEGUN? STAY TUNED FOR MORE ON THIS DANGEROUS NEW TECHNOLOGY.]
First, the praise. Randy has made a more-or-less topical comic not once, but twice in recent memory! Compared to his usual "this thing that was relevant in 2006 is still funny now, right guys?" schtick, this is fucking brilliant. And that is basically what the WikiLeaks logo looks like. So, good job?
Sadly that's the only good thing I have to say about this comic. The core of the joke seems to be "lol wouldn't it be funny if wikileaks released a bunch of data about people who supported it a bunch???" which, I'm not even sure how that's supposed to be funny. It seems to be coming down on the vaguely negative-on-wikileaks side? But it's not a particularly plausible or harsh criticism, unless it's trying to say that people only like it so long as it's not leaking their information.
Lots of people seem to like the alt text. This is wrong, both morally and intellectually. The alt text is boring and predictable and doesn't say anything new or interesting.
I could be wrong here, since the comic is so utterly insubstantial that it's very possible it is actually nothing more than the product of random chance, but it seems to me that the problem here is that Randy is trying to express an opinion--and subtly, for a change. Normally he expresses an opinion in such a hamfisted way that there can be no doubt that Randy has decreed this to be good and expects his followers to obey him, as they do in all things. But this time he's gone for subtle, and is relying on the power of his writing and the strength of his art to convey the intended message! Unfortunately his writing is weak and his art is shit, so the intended message never gets there.
Listen, Randy. You suck at subtle. Stop trying.
Anyway! I took a little adventure to the forums to see what they had to say about this one. They don't seem to care for the comic much, but it has launched an incredibly hilariously retarded discussion on the nature of truth. It's probably not worth reading, but it produced the following gem:
"Don't get me wrong: Without trust, a working society would be impossible. But we weren't meant for this. We were meant for groups of 20-50 people, where we could look every single one of them in the eyes, and he knew the harsh consequences of hurting his group. I'm already in the process of developing a solution that allows societies of the size of ours to work like this again. But it will take time, because it's far more developed than what anyone could imagine based on the above alone."
He's developing a solution, guys! In a few years all the problems of living in a large society will be solved, thanks to the xkcd forums. You can thank them later.