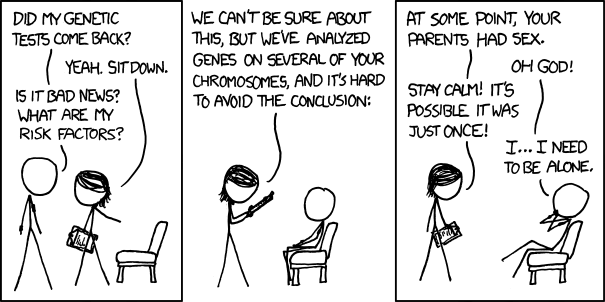 [Hated demonic entity "shufti" has vomited another pile of horrible words from the sulfurous depths of hell. What follows is a rough transcript. -Ed.]
I'm disappointed again guys. I actually enjoyed xkcd for a while - a good three weeks in fact. I was kinda flabbergasted that, for once, there was
quality
on xkcd. All of it was flawed, of course, but it was still decent. Randy seemed to have rediscovered what a "punchline" was and that it meant the comic was "over", he actually displayed a bit of "subtlety", and for once the nerd references weren't so maddeningly stupid and out-of-place. These comics still had their flaws, but they were at least amusing for a change.
And of course Randy's 4chan alarm went off that SOMEBODY WHO HATED HIM DERIVED ENJOYMENT FROM HIS COMIC, so he swoops in with 830, a metaphorical C-C-C-COMBO BREAKER of shit and fail.
Oh, who am I kidding, this wasn't intentional - Randy just sucks at humor. I mean, "Your parents had sex"? That's the punchline? Thanks Captain Obvious. This is exactly like that damned
Computer Problems
comic or that also-damned
Desecration
comic - it's a couple of adults acting like fucking infants (or Tea Partiers) over the stupidest shit. I feel like Randy took a trip to Simple Wikipedia (or a Tea Party rally) and he suddenly lost faith in a person's ability to reason anything beyond 1 + 1 = 3 or something.
Is this Randy trying to say he remembered a repressed childhood memory? Or maybe he was catching up on his Big Bang Theory and saw that one episode where Sheldon was being teased about his "Mema" having had sex at some point and he thought, "Oh that's funny. I shall use it for my webcomic."
Well, a pox on your webcomic, Randall. A POX.