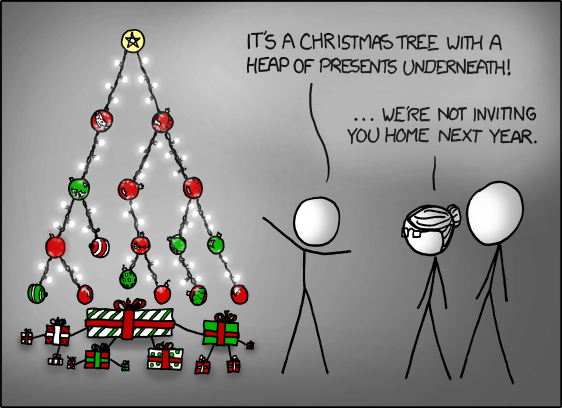 [ALT: Not only is that terrible in general, but you just KNOW Billy's going to open the root present first, and then everyone will have to wait while the heap is rebuilt.]
I had the honor to be present when Randy created this comic. He was eavesdropping outside Megan's window, as is his wont on the cold, dark evenings of a Boston winter, when she mentioned to her family on the phone (tragically distant for the holidays) that she had finally got her Christmas tree. For a few moments, Randy's mind started clicking and whirring, when suddenly, he screamed, "YOU MEAN LIKE THE DATA STRUCTURE??? OH MY GOD I AM THE BEST COMICS ARTIST EVER HAHAHAHA," then fled through the streets before Megan could arrest him for violating his restraining order for the third time today.
Later, at his underground warren in Fort Randy's Mom, he spent hours and hours trying to make this brilliant connection--the word "tree" is not used exclusively to refer to a type of data structure, but it
also
describes the pointy green thing you put in your living room around the winter solstice for some reason. (Randy is not sure how the pointy green thing is like his beloved data structure, and is fairly certain that the words are actually unrelated, but the lack of similarity only makes his genius the greater.) But how could he convey this connection? He knew that it would need to be a visual thing, so he pulled up the Photoshop gradient shading tool he reserves only for his most artistic of comics. But what could he put in front of the gradient?
He sketched a few trees, of both both the data and the pointy green thing variety, but came no closer until he noticed that the data trees were kind of pointy in shape sometimes! "MEGAN WILL FINALLY LOVE ME," screamed Randy, and he swiftly set about making a pointy green data tree in front of a gradient. But then part of his brain kicked in and reminded him that when you do something like this it is called a "pun," and it is traditional for people to groan and call them "bad" when they like them a lot. So he threw in some characters with gradient-heads and creepy floating glasses and had them tell the genius that is his author-insertion character that his pun is SO BAD they aren't inviting him home next year!
They don't invite him home, Randy decided, because they are jealous of his gifts. WHICH IS FINE, HE DOESN'T NEED THEIR STUPID SOLSTICE HOLIDAY AND THEIR TASTY DINNERS AND THEIR PRESENTS ANYWAY