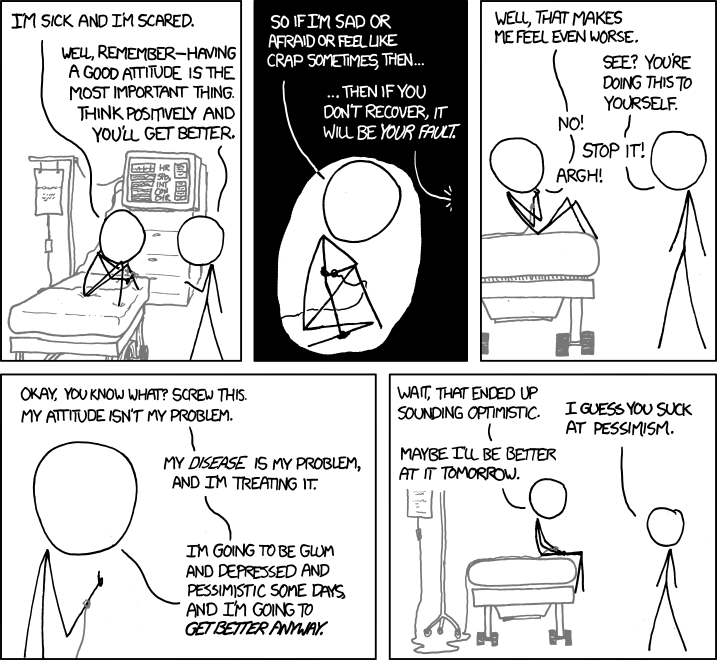 [ALT: Having a positive attitude is almost tautologically good for your mental health, and extreme stress can hurt your immune system, but that doesn't mean you should feel like shit for feeling like shit.]
I kind of winced when Randy put this one up. It has that whole 'look at the obvious applicability to my situation!' thing going on for it, and that just makes it awkward.
Aside from that, kind of boring. Some of you seemed to like it, some others of you seemed to think it was the worst thing ever. I have approximately zero thoughts about the joke--it is just boring.
The art is interesting, though! Let's talk about that. The past two comics, Randy seems to be trying out new artistic elements: the uselessly placed last panel of yesterday, the weird shade of the background and the wombpanel of today. The problem is his art just doesn't have the ability to support conveying new ideas. I think one of the reasons the 5-minute comics worked so well is he didn't try to use the art at all. They were unapologetically crudely drawn.
Oh, and there's the throw-away jokes! The D&D stat-sheet was vaguely amusing. Less amusing was the one from yesterday, which I forgot to mention when writing the post: the address given was on Ash Tree Lane, which is a clear reference to
House
of Leaves. I'm normally all about references to HoL, but this one had no reason to be there, and felt like it was just trying to pander to those of us who have read it. YOU DID NOT SUCCEED, RANDY.
I'd apologize for being late, but I hate you all, so I'm not really sorry.