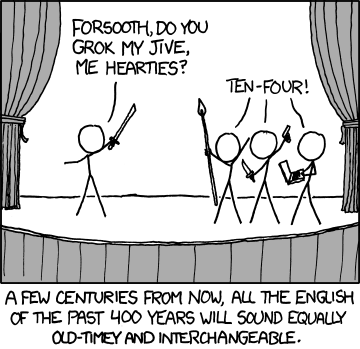 [Alt: The same people who spend their weekends at the Blogger Reenactment Festivals will whine about the anachronisms in historical movies, but no one else will care.]



In the future, people will not have a good sense of how history happened:

---------------
OK, I've let my copy and pasted comics speak for themselves for a day, I suppose I should write a few words.
There are two basic facts about this current comic that bother me. The obvious one, which the other comics here are meant to illustrate, is that this idea is dumb and old. I find it incredibly similar to the PBF quoted above - particularly because the scene is presented as future-theatrical representation of life happening in our era. Both present things from all different parts of history as though they happened at once. Of course, it's telling that PBF was able to do so without explanation, while xkcd needed a caption to explain what the hell what going on. But that's a separate matter.
And of course, the whole "blogger reenactment fair" thing is a straight out repeat of the other xkcd above. The whole concept of people in the future misunderstanding what is now the present is copied exactly as well.
The other problem is that the comic is simply not
true.
The comic is not really about the future, of course, it's about the present, and saying that this made up thing in the future seems silly but the humor of the comic is supposed to come from the fact that we are doing the same thing today (after all, a comic that just said "a few centuries from now, politicians will wear funny hats while covering themselves in honey and eating rocks" is just random, and not funny. you can make up anything about the future!). So is it true? Does all language older than say, 100 years, sound the same to us? I'm not sure. I don't know a lot about language. Someone who does, though, is commenter A, who wrote the following comment below (hope you are ok with me posting this A!)
But the English people used in say, the 1700s sounds completely different to the English used in the 1800s. Comparing even the early and late 1800s you can see the difference, it's like, the difference between an Austen novel and Dracula.

Then again, I'm just an English literature student, and that's no hard science so what do I know.
This point is great. Yes, English from the 18th century and English from the 16th century might sound similar to someone like Randall Munroe, who has never studied it (or, for that matter, me). To someone who has, 16th century language and 18th century language are as different at 18th century and 20th century.
To put it in terms xkcd might understand, show the average dude a calculus proof and a physics proof and they'll look the same. Here, try it yourself:
i got this one googling "calculus proof" and this one for "physics proof" and see if you can tell the difference.
Here's something wikipedia tells me is
calculus
, and something wikipedia tells me is
physics
. For the record, I can't tell the difference at all, which means that I may be wrong and these are both the same thing. So who knows. The point is: If you don't know what you are looking at, it's not going to be meaningful.
(
update: The original links I posted were, in fact, not very good examples, as pointed out by a commenter. hopefully the new ones are better.
)
Which would all be well and good if Randall Munroe didn't have a
history
of
mocking
the
non-math
based disciplines. Come on! You can't on the one hand dismiss these fields as dumb and not worthwhile, and on the other hand laugh about how little anyone understands the differences in language over time. Maybe those fields of study aren't so stupid, huh?
No, he won't admit that. He'll keep having it both ways, and the people who hate English or Literature will keep siding with him and thinking it's hilarious and the people who think that hey, maybe things you don't like are still worth studying by some people. You don't have tpo even study them yourself! You just have to
stop denigrating the people who choose to study what they love.
Is that so hard? It really shouldn't be. And yet, somehow, it is. I hate it.